Conferencia

Steven Levenkron

, Auditorio Casa San Pablo, Santo Domingo.
Steven Levenkron is a recognized and experienced New York psychotherapist. He will visit the Dominican Republic for the first time to offer two great talks in which he will respond and give explanations about the causes of Anorexia, Bulimia and other Eating Disorders. Dr. Levenkron, author of the first works on anorexia and famous for having among his patients entertainment stars (models, singers …) will talk about new treatments and give updated advice on how families can help their loved ones who suffer of anorexia. to regain health and self-esteem. Prices Between 500 and 450 pesos.
ANFC 2 Generation gladiators (Generation of Gladiators), boxing Coliseo Carlos Teo Cruz, Santo Domingo.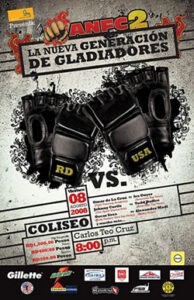 A martial arts circuit at the Carlos Teo Cruz Coliseum in Santo Domingo, where the stars of American MMA and Ultimate Fighting Championship (UFC) Ira Guyer, Johnny Curtis and Todd Duffee and the Dominicans Omar de la Cruz, Oscar Sosa and Alexander Madi will measure your strengths. The program contains other good fights from Dominican stars such as: Emilio Martínez, Marcos Hernández, Miguel Mena and Juan Carlos Valido. Prices between: RD $ 200.00 – RD $ 1,000.00.
The summer event: Willie González, El Torito & Los Potros at Agua Splash, Santo Domingo.

It is a concert that brings together three of the most important artists of tropical pop music of our time: Salsero Willie González from Puerto Rico and Dominican merengue singers Héctor Acosta El Torito and Jandy Ventura & Los Potros. The event is scheduled for this Sunday, August 10, at the Agua Splash Water Park, in a 100% beach environment (artificially recreated), where Willie's romantic salsa and the songs of El Torito and Los Potros will make everyone dance. Price: 600 pesos.
Frank Reyes

in La Rancheta de Las Terrenas.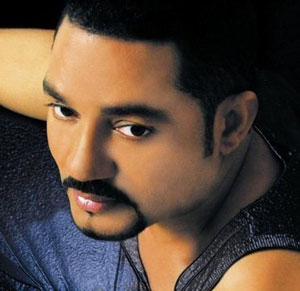 The Prince of bachata, Frank Reyes, will be on stage at La Rancheta, this Friday August 22nd. The world-famous artist, author of the songs Let me enter you, Who are you, Alcohol, Princess, Dosis de amor among others, will offer a unique show to his fans.
Pedro Guerra Life Tour 2008 at the National Theater, Eduardo Brito Room, Santo Domingo.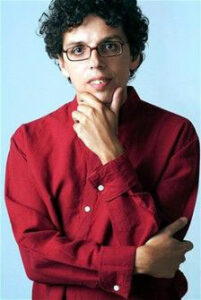 After more than three years since his last visit to Santo Domingo, Pedro Guerra, one of the most important contemporary composers of this time, returns to the country for his Vida Tour. During this 4th concert in the Dominican capital, the songwriter Daniela, Pasa, Raiz et Debajo del Puente will present his new production Vida and will also sing his old songs. As for his other concerts, the night will be magical, and energy and sensitivity will be joined by the soft and wonderful music. Prices: From 900 to 1300 pesos.
Cristian Castro & Gilberto Santa Rosa at the Palacio de Deportes in Santo Domingo.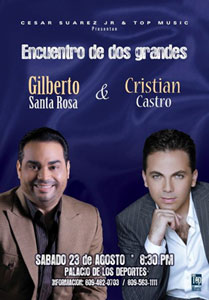 For the first time together: two of the most talented Latino singers. The Puerto Rican singer, Gilberto Santa Rosa and the Mexican romantic pop artist Cristian Castro will be together for an unforgettable show, on Saturday, August 23 at the Palacio de los Deportes in Santo Domingo. Two different styles, but that will make you dance non-stop and sing for a varied audience and lovers of good music. Prices between 600 and 2500 pesos.
Adventure in Gran Arena del Cibao Doctor Oscar Gobaira in Santiago.

The Dominican group of Bachata Aventura will be the musical attraction that will inaugurate formally, as the spectacles' room, the Gran Arena del Cibao Doctor Oscar Gobaira, during an unforgettable concert for the fans of the famous band.
On Saturday August 30 at 08.00pm, Aventura will present its more recent artistic production that has is already a hit in all the world.
Gran Arena del Cibao, former Palacio de los Deportes is a structure that was inaugurated last month by president Leonel Fernández, and that is able to accommodate 7000 persons.
Gran Arena del Cibao is located in the north of the of Santiago town, between the 27 of Febrero, Imbert and J. Armando Bermúdez avenues.
Alejandro Fernández at the Palacio de los Deportes, Santo Domingo.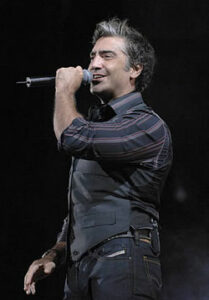 Mexican star Alejandro Fernández
arrives in the Dominican Republic
with his spectacular show that is
part of his world Tour Wind a favor. After 5 years without coming to the
country, the singer arrives with
bags full of hits, old and new. Alejandro, who had a great success
with his Tour Viento a favor that
fills the concert halls of Latin
America, will offer a wonderful
show to the public who will come
to see him at the Palacio de los Deportes. Pices from 1000 to 3500 pesos.
Oxygen by Michel Bizet at the Las Casas Reales Museum, Santo Domingo.

It is under the title of Oxygen (Oxygen) or the Space of the Insipid that the Las Casas Reales Museum will host in its colonial space the first individual exhibition of the French artist Michel Bizet, from August 12 to 30. The exhibition shows a selection of the most recent pictorial work by the artist from France, who has lived in the Dominican Republic for more than 10 years. Bizet's work is defined as a dialogue with the framing of Amable López Meléndez, a famous art critic. In most of Oxygen's works, the play of chromatic contrasts is smooth and the harmonious blends are an exceptional peculiarity. According to Cándido Gerón, a famous Dominican artist, Bizet only needs the magic of colors to cook matter to the highest degree until he finds a liberated language or the impulse of fundamental matter. The profits from the Bizet exhibition will be donated to the Center for Agricultural and Forestry Development (CEDAF), a non-profit institution that will reinforce the projects developed by the Las Neblinas Scientific Reserve. Michel Bizet was born on September 26 in Jallieu, near Lyon, in France, where he draws and paints intensively until he was 17 years old. Then he travels to Paris where he learns the profession of waiter in the prestigious hotels. Later, he became an antiquarian and joined the fashion industry, collaborating with great designers, models, and famous artists. He is the founder of the BASIC Jean clothing chain. After the Algerian War, in which he participated as a member of the French Marines, he went to Liverpool to learn English. At the end of the sixties he returned to France and developed important tourist projects. In Saint-Tropez he shared good times with his painters friends, Antoni Clave, Pablo Picasso, Pierre Jacquemon and the musician Jean-Michel Jarre. In 1995 he visited the Dominican Republic and the following year he settled in Las Terrenas, Samaná, where he developed the real estate project Parques Las Terrenas and the Casa Linda and Plaza Taina shopping centers. But the material achievements did not supplant the dreams that he creates through the brush. I am ready now because it is the first time that I am free. I have a spiritual life and I can say that painting is something very serious. I feel like I am responding to an uncontrollable urge to draw and paint, says the artist.