The third edition of the Gran Fondo New York (GFNY) cycling race will be held on the 19th of this month in Punta Cana, with the participation of more than 600 cyclists.
The announcement was made by the organizers during a press conference held at the James Rodriguez Hall of the Ministry of Sports and Recreation (Miderec).
"We are extremely excited about this new opportunity provided by the Dominican Republic, hand in hand with government and municipal authorities, for the celebration of this third cycling marathon in the paradisiacal destination of Punta Cana. So far, more than 600 cyclists from 20 different destinations have registered," said Edwin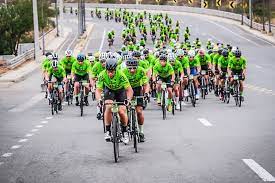 De los Santos, of the organizing committee.
De los Santos explained that the route will have two distances: long route, 155 kilometers and short, with 94 kilometers.
The agenda of activities for the GFNY Dominican Republic includes several days of cycling fun, beginning the week of March 12 to 17, during which hundreds of cyclists will be arriving, while on March 18 a warm-up test will be held.
The race, scheduled to take place on Sunday 19, is scheduled to start at 6:30 in the morning, where the cyclists will ride through Miches and Nisibón, among other towns in the eastern part of the country.
"For the Ministry of Sports it is more than a pleasure to support and be part of this important event where sports tourism is promoted", said Primitivo Cadete, director of Communications of Miderec.
The GFNY is an international organization founded in the United States in 2010, which celebrates more than 30 events around the world with an average participation of 40,000 cyclists each year, including the famous Gran Fondo New York World Championship that gathers more than 5,000 cyclists.
The event was also attended by members of the event's organizing committee, Antonio Acosta and Noly Bello.
Source: bavarodigital.net
Learn more: EVENTS