Bugatti Veyron Grand Sport.
Bugatti unveils Veyron Grand Sport
Bugatti has released more details of its targa-top Veyron Grand Sport following the cars debut at the Pebble Beach Concours d'Elegance. And with the roof off, the Grand Sport is the slowest Veyron ever, capable of just 225mph. But don't fret, because with the targa panel in place the Grand Sport will still do 254mph.
The windscreen now sits a little higher and there are daytime running lights and new alloys. But the significant changes are under the skin, all designed to cope with having the regular fixed-roof replaced with a transparent polycarbonate item that lifts out.
The removal of the fixed roof means the carbon fiber monocoque has been reinforced around the transmission tunnel and side skirts, while a central carbon support plate also now spans the transmission tunnel.
The B-pillars have been reinforced with carbon fiber and the redesigned air intakes now feature 10cm wide carbon fiber elements to protect you in the event of a rollover…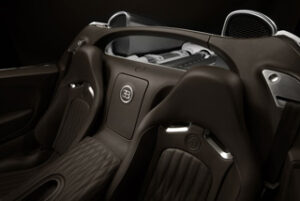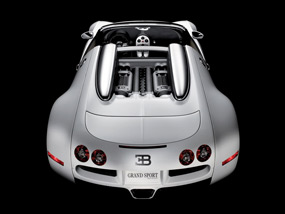 Just 150 Grand Sports will be made, meaning more than the original promised run of 300 Veyron will rolls out of the Bugatti factory in Molsheim. Each Grand Sport will cost £1.1m, plus tax, and the first 50 will go to registered Bugatti customers. Production starts in early 2009.