Luis Rezende, Head Hub Latin America for Volvo spoke to Autosdeprimera about electrification, technology and sustainability. He announced the arrival of a new electric SUV for Colombia.
Volvo Cars is a world leader in safety, which has been demonstrated with its product portfolio throughout its history, where they have had great technological innovations based on it; for the brand this issue is part of its pillars and today it is on its way to become 100% electric.
Within the framework of the Ocean Race nautical competition held in Brazil, a sporting event sponsored by Volvo, Luis Rezende, Head Hub Latin America for Volvo, spoke with Autosdeprimera. The executive began by highlighting the new technologies that equip the new EX90 that will arrive in Colombia in the second half of the year.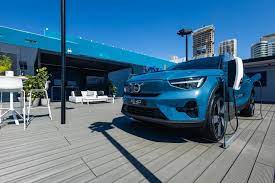 "The new EX90 comes equipped with a camera that allows the driver to see beyond human vision by identifying unevenness on highways and streets. Thus the system warns the driver about this affectation some 100 or 200 meters in advance." Rezende comments.
Another of the technological advances present in the EX90 is its range of autonomy. Thanks to the energy density of the battery, it allows a range of 600 kilometers. For Rezende, this is ideal for countries such as Colombia, where the distances between recharging points on the road are still far.
According to Rezende, in addition to the arrival of this model, Volvo is preparing the arrival of a new SUV for Colombia. "It is a 100% electric vehicle that will be presented on June 7 and will be marketed in pre-sales at a more affordable price compared to the XC40 and C40". Rezende states.
Road to electrification
Seventy percent of Volvo's sales are electrified vehicles (hybrid and electric) and Latin America has great potential. For Rezende, this region is one of the regions with the highest demand for electric vehicles.
Volvo's offer of 100% electric vehicles is getting stronger and stronger. "The company no longer produces combustion engines and now our plants are dedicated exclusively to the production of batteries, engines and software for electric vehicles," says Rezende.
This change in marketing strategy and vehicle production will not affect the current owners of a Volvo vehicle with a combustion engine or hybrid. According to the brand, they will continue to provide technical assistance and spare parts to their customers around the world.
One of the major technological changes in the new generation of Volvo electric vehicles is the increased range. "We already have a 600-kilometer battery in the EX90 and the new SUV will have a 500-kilometer battery. We are making very important achievements and we are making more progress on this every year."
Another interesting development in Volvo's technology is that the vehicles can generate power for the home in the event of a power failure. According to Rezende, these developments that the brand has been making bring a myriad of additional benefits.
Volvo and its circular economy
In addition to thinking about reducing CO2 emissions, Volvo also aims at the circular economy through the use of recycled materials, as is the case of the XC40. With this, Volvo will be able to fulfill its sustainable commitment to the benefit of the environment.
According to Rezende, "by implementing the electrification of our portfolio, we avoid the use of lubricants and other elements typical of a combustion vehicle, such as brake pads, thanks to technologies such as the One Pedal Drive".
Another of Volvo's contributions to sustainability has to do with recharging points, whose energy is derived from hydroelectric plants. "In Brazil we have installed several recharging points whose source is water, and in Colombia we are also making agreements for this." Rezende explains.
In terms of charging station infrastructure Mexico, the Dominican Republic and Chile are the most advanced. "In Colombia, we are beginning the process of installing a large number of stations, thanks to the agreements we are developing with the electric utilities. In the case of Brazil, Volvo is doing it directly".
Environmental footprint
One aspect of concern to governments is the environmental footprint that will be left by the exploitation of raw materials for batteries and other components. To this end, Volvo is being very strict in obtaining these resources to know where they come from.
Rezende also highlights Volvo's participation as a sponsor in the Ocean Race sporting event, considered Formula 1, in sailboat racing. "We have 20 years as sponsors of this event promoting policies of environmental care, safety and sustainability within the framework of the global campaign 'Volvo For Life'".
To conclude Rezende sees Colombia as an important market for the brand. He highlights its sales performance through its dealers, who are very committed to achieving the company's objectives.
He also emphasizes social projects such as the cultivation and export of hearts of palm in the Department of Putumayo. This project benefits more than 400 families and has been possible thanks to the collaboration of partners such as Harry Sasson. "For Volvo this transformation is very nice and it is very important to support these plans," Rezende points out.
Source: Autosdeprimera.com
Learn more: AUTOMOBILE