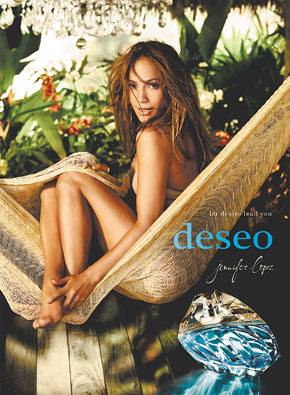 Deseo : the second perfume of Jennifer Lopez
She's preparing it for launching and it which will be sold from February 2008
It's the first time that Jennifer Lopez will bring her Hispanic heritage in this way. Deseo is the fruit of the collaboration with the Coty Prestige cosmetics and Ellen Molner and Jim Krivda from Givaudan.
For this perfume, Jennifer Lopez took her inspiration from her own garden fragrances.
The Coty team came to visit her garden and take fragrances notes to include in the new product. The result is a bamboo leaves, bergamot, freesia, jasmine, geranium flowers, orange blossom, and mimosa mix.
The new bottle, conceived by Jennifer Lopez cares, always with the Coty team help, will represent diamond shapes.
Maybe a declaration about the future of the Hispanic community in America
collection will contain eaux de parfum in two sizes: 50ml for 46,00 $, and100 ml for 50,90 $. There will be the Desirable Body Lotion product that will be launches at the price of 27,50 $ for 200ml.