For a glamorous look
The eyebrows are a very important part of our face and are an essential part of its harmony. Therefore, any changes on their structure, although if it's very light, can illuminate the eye and the rest of the face.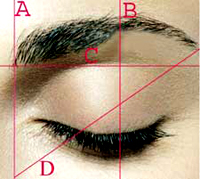 Still, women often neglect the eyebrows and focus more on the makeup, often because they do not know how to pluck them and obtain an harmonious result.
Here are some tips
How to pluck the eyebrows
The basic rule: The eyebrows have to follow a ¼ ascending ¾ descending line.To avoid any mistakes, draw the line to be followed with a pencil. Eyebrows must be plucked starting from a thick line at the beginning and then progressively refine it. You should never pluck above the eyebrow.
The correct movement: Stretch the skin between your two fingers and remove hair by hair in the direction of growth: the eyebrows have a basic shape and a direction of growth that should never be modified. Gestures must be precise and it is preferable to catch the hair at its base to prevent breakage.
The shape: It is always better to follow the natural shape of the eyebrow than the trends you see in the magazines.
The imaginary lines (see image):
Line A: From the nostril to the beginning of the eyebrow.
Line B: Vertical, it divides the eye.
Line C: Horizontal, from the bottom of the eyebrow.
Line D: From the nostril to the corner of the eye.
The tricks: When the hairs are out from the line because they are too long, it is better to cut them a little than to remove them in order to maintain the density of the eyebrow.To prevent the small red spots caused by hair removal, put some ice on the skin. Before plucking, comb the eyebrows from the bottom to the top several times and moisture them with alcohol on a cotton.
Make up your eyebrows
Use a brush: Comb your eyebrows to avoid any mess !
Transparent mascara: It enables you to set the shape of the eyebrow and give more shine to it.
Pencil: Use it to define better the eyebrow shape. Do not draw on the eyebrow, just apply small lines that will look like hair on the portions you want to fill.
The right color: The color chosen should not be too clear or too dark, it should just look natural. For blondes, the tones will be a little darker than the hair color. For those who have brown hair, the opposite happens, you should choose lighter shades. For black hair, the ideal color is also black.