With the Expo Mango 2022 fair, the Minister of Agriculture, Limber Cruz, predicts a significant growth in the national production of the fruit destined for export higher than last year, which was 20,800 tons.
Cruz said that during 2021, 52,500 tons of mangoes of kit, mingolo, banilejos and other varieties were produced, of which 40 percent were exported. For this season, it is expected that this crop, with presence in U.S. and European markets, will generate about 40 million dollars for the country.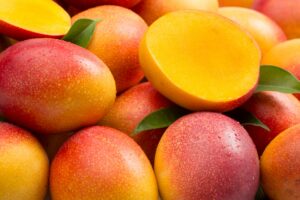 The head of the agricultural portfolio gave details of Expo Mango 2022, a tradition that has been held since 2005 in Baní, Peravia province, with the aim of attracting producers, traders, consumers and academics from all over the country and abroad.
As part of the agricultural strategies implemented by the Government headed by President Luis Abinader, the Ministry of Agriculture will hold the fair from June 15 to 19, at the Plazoleta Sergio Joaquín Incháustegui, with the participation of the provinces of Barahona, Bahoruco, Azua, Pedernales, El Seibo and Peravia.
In addition, there will be representatives from the United States, England and other countries where they will exhibit what they produce, as well as their experiences in the cultivation and marketing of the fruit.
More than 300 varieties will be presented and on this occasion there will be gastronomic activities where the star product will be the mango.
National production
The country currently has 1,800 mango producers and 704 certified to export to the United States, of which 507 are from Peravia and 71 from Azua. In addition, the local market has 19 packing houses for export, four of these with hydrothermal treatment.
The distribution of mango varieties exported to the US in 2021 was as follows:
Mingolo 90%
Banilejo 6%
Others 4 %
The main destinations for Dominican mango exports are:
Europe 62% USA 32
USA 32% CANADA
Canada 5% Caribbean islands and others
Caribbean Islands and others 1%
In the country, there are more than 130,000 tareas of mangoes planted in organized farms to meet the demand for domestic consumption and export.
The minister made the statements during a press conference held in Agriculture. Also present were the deputy ministers of Production and Marketing of the entity, Eulalio Ramírez; of Extension and Training, Darío Vargas; and Rafael Ortiz Quezada, of Scientific and Technological Affairs; as well as Rafael Leger, president of the Mango Cluster and Salomón Rodríguez, of the Hydrothermal Plant Council.
Also present were Ana María Barceló, director of the National Council of Agricultural and Forestry Research (CONIAF); Rafael Soto, regional director of Agriculture in Baní, among other agricultural authorities.
Learn more: CONIAF
Learn more: Commerce in Dominican Republic