By the close of 2022 exports to Germany totaled US$133.3 million, for a 15% growth compared to 2021
A delegation from the Dominican Republic Export and Investment Center (ProDominicana) led by its executive director, Biviana Riveiro Disla, is participating in a trade mission to Germany with the purpose of strengthening trade ties between the two nations and participating in the Fruit Logística Fair.
Riveiro explained that this mission aims to further strengthen the alliance for development and competitiveness between the Dominican Republic and Germany, taking into account the strength of the relationship between the two countries and the common positions they hold on business issues.
"We are showing the strategic factors that make the Dominican Republic attractive as a business and investment destination, and that more German companies come to settle in the country, formulating and implementing development policies to make foreign investment in the country attractive," he emphasized.
As part of the mission, the ProDominicana delegation participated in a coordination meeting between the Dominican Embassy in Germany and the Dominican-German Chamber of Commerce to jointly coordinate what would be the first Dominican Week in Berlin, as part of the celebration of 70 years of diplomatic relations between the two countries. Present at this meeting were Francisco Caraballo, ambassador of the Dominican Republic in Germany, the executive director of the Dominican-German Chamber of Commerce, Frauke Pfaff and the president of the Dominican-German Chamber of Commerce, Karsten Paul Winder.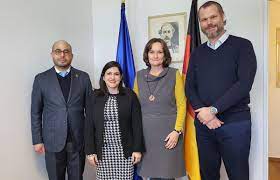 They also met with the Association of Small and Medium Enterprises BVMW Mittelstand, which has a membership of close to one million companies, in order to present the opportunities, the legal framework and the great connectivity and logistics as facilities for German companies.
Among the planned meetings of the mission are meetings with representatives of the Agency for Economic and Business Development, the Association for Latin America in Germany LAV and the second largest German bank, Commerzbank, which finances a large part of German trade operations; and with executives of the companies Siemens and Sunfarming.
For the 2015-2022 period, trade exchange between the Dominican Republic and Germany was US$3,761.3 million. At the close of 2022, exports to Germany totaled US$133.3 million, for a 15% growth over 2021.
In terms of foreign direct investment, the country has German companies that allow the development and creation of jobs for thousands of Dominicans, highlighting a total invested US$112.7 million in the last five years.
Source: Eldinero.com.do
Learn More: COMMERCE