Chamber of Commerce and ProDominicana agree to strengthen exports and investment in Peravia.
The Export and Investment Center of the Dominican Republic (ProDominicana) and the Chamber of Commerce and Production of Peravia agreed to promote actions to identify opportunities for exporters and to attract foreign direct investment (FDI) to the province.
By means of the agreement, the entities undertook to make viable actions and projects focused on the promotion of business productivity and exports.
They also agreed to optimize the institutional framework and legal security as attractions for attracting investment and maximizing benefits.
Mildred Santos, deputy technical director of ProDominicana, said: "With this alliance we strengthen the province's capacity to meet the needs of promotion mechanisms for companies offering goods and services. At the same time, we generate the conditions to increase export opportunities and attract new investments to the area".
Edesur Administrator meets with traders and businessmen of Peravia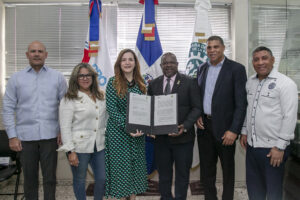 Pelagio Pérez, president of the Chamber of Commerce and Production of Peravia, said: "This alliance puts us much closer to the level of development that we aspire for the province of Peravia. The companies and producers of the municipalities of the province will find in this agreement a support for their business projects; and for the consolidation of actions that converge in the exports of their products".
Peravia had exports of more than USD 127.8 million in the last years
It is worth noting that Peravia has exported more than USD 127.8 million in the last five years. Likewise, by 2021 the value handled by exporting companies installed in the province of Peravia was USD 25.4 million; an amount equivalent to an inter-annual growth of 28% compared to 2020.
Likewise, the participation of Peravia's municipalities in exports is divided with: Baní has 46.54 %; Nizao 38.03 % and Matanzas 15.43 %. Similarly, 60% of Peravia's exports in 2021 were destined for the markets of Haiti and the Netherlands. Other destination markets were the United Kingdom, Puerto Rico and the United States.
As of 2021, 4 foreign investment companies are installed in Peravia in Free Trade Zones, which generate more than 700 direct jobs; and have an accumulated investment amounting to USD 80.7 million, in sectors such as textile manufacturing and agro-industrial products.
Among the results of the agreement is the installation of a ProDominicana office and technical staff to meet the needs of companies and MSMEs in Peravia, as well as potential investors. Likewise, both entities committed to share experiences, human resources, knowledge and data available to strengthen the productive capacity and FDI attraction of Peravia and its municipalities.
The agreement was signed in the presence of provincial authorities, company representatives and members of the technical teams of both institutions.
Learn more: COMMERCE