The Norwegian Prima arrives for the first time in this Atlantic city on Tuesday 18 and Allure of The Seas on Monday 31 October.
This October 2022, a total of 24 cruise ships will arrive in this province through the Amber Cove and Taíno Bay terminals.
According to the official calendar of the Ministry of Tourism, 14 of these ships are scheduled to dock at the Amber Cove port (Maimón) and 10 at Taíno Bay.
The Scarlet Lady, Norwegian Sky, Celebrity Infinity, MSC Seashore and Allure of the Seas, which will visit Puerto Plata for the first time on Monday, October 31, will arrive at the latter terminal.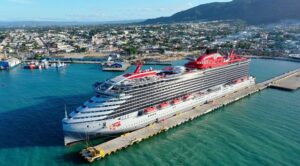 While the Amber Cove port, located in the bay of Maimon, will receive Carnival Mardi Gras, Carnival Legend, Carnival Spirit, Carnival Freedom and the Norwegian Prima, which arrives for the first time in this Atlantic city on Tuesday 18.
The authorities of the area emphasize that the thousands of cruisers who arrive in Puerto Plata invigorate the economic activities of this destination. These tourists spend an average of US$80 during their visits to small and medium-sized local businesses.
Travelers leave in the morning and return to the ships in the afternoon, after visiting the many attractions of beaches, rivers, historical and cultural sites, in addition to receiving the hospitality of the people of Puerto Plata.
Learn More: CRUISES