Major cruise lines will arrive in Samaná with 30 ships over the next five months
Santa Bárbara de Samaná, November 22, 2022. More than 60,000 passengers will visit Samaná during the five-month cruise season that formally began last November 11 and will extend until April 2023 with the arrival of 30 ships.
This season formally began with the arrival of the cruise ship AIDA Luna of AIDA Cruises with about 2,000 German passengers on board. In addition to this, during the 2022-2023 season, other important cruise lines such as Costa Crociere, TUI Cruises, Azamara and Ponant will be arriving to the port. These lines will call in Samaná with their ships Costa Pacífica, Ponant Le Dumond, Azamara Onward, Mein Shiff, AIDA Luna and AIDA Cruises.
It should be noted that the surrounding communities will receive first hand the benefits of the arrival of these cruise passengers. This is due to the fact that tourists tend to spend money on various activities, income that goes directly to tour guides, excursion merchants, owners of maritime transportation, cab drivers, motoconchos, restaurants, gift stores and other businesses in the area. In this way, the economic growth of the region translates into development for the families of the community.
The arrival of the cruise ships to Samaná is one of the most awaited times by the communities of this province, since it is one of the activities that has more impact on the local economy due to the economic spill that the cruiser usually makes in the different zones of Samaná. These expenditures translate into the generation of tens of millions of pesos annually, which have a positive impact on the quality of life of its inhabitants," said Federico Schad, president of the Samaná Bayport tourism company.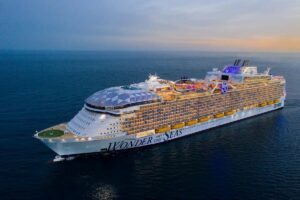 On the other hand, the positive progress of the construction of the new Cruise Terminal of Samaná is announced, which, at the moment, is advancing positively. It is important to emphasize that this is a project that will create the necessary port conditions to attract a greater number of tourists, and, with this, enhance the economic and social development of Samaná; reflected in a better quality of life for the inhabitants of the province.
The start-up of the Samaná Cruise Terminal, together with the investments made by the government in the province, such as the renovation of the entrance and its boardwalk, will improve the image and the quality of the tourist services offered to all visitors to the area", added Schad.
About Samaná Bayport
Samaná Bayport is a tourism development project with 100% Dominican capital, which seeks to promote economic and social development through cruise tourism and private navigation in the Bay of Samaná.
Learn More: CRUISES