Some 24,166 tourists arrived in Puerto Plata last Friday, March 24, aboard four luxury cruise ships that anchored at the Amber Cove and Taino Bay terminals.
This was announced by the Northern Regional director of the Ministry of Tourism, Atahualpa Paulino, who praised the increase in the arrival of cruise ships full of visitors from different parts of the world to this locality.
He explained that in the Amber Cove terminal located in the bay of Maimon, the Carnival Horizon cruise ship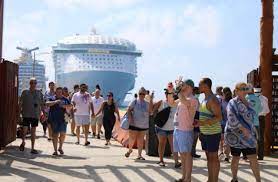 arrived with 4,588 passengers and 1,408 crew members, as well as the NCL Encore with 4,661 passengers and 1,647 crew members.
Likewise, the cruise ships MSC Seascape (5,469 passengers and 1,642 crew members) and Celebrity Beyond (3,288 passengers and 1,435 crew members) were received at the Taino Bay port, totaling 11,834 visitors.
Since the inauguration of the Amber Cove and Taino Bay tourist ports, this is the first time that a single day has received the largest number of cruise passengers who visited and learned about the many attractions in "The Bride of the Atlantic".
Source: Mitur.gob.do
Learn more: CRUISES