Nationals and foreigners gathered at the fourteenth edition of the Punta Cana Carnival on November 1st Boulevard of Puntacana Village, to enjoy the color and music, artistic and cultural attractions of various local and international troupes.
The parade began at 4:00 p.m. on Saturday afternoon with the coronation of King Momo, the renowned "Galán del Merengue", Eddy Herrera, who rode down the boulevard in a vintage vehicle driven by Frank Rainieri, founder of Grupo Puntacana.
The cultural celebration continued with a multicolored display of masks and costumes with more than 20 comparsas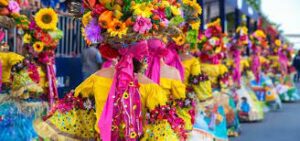 with representatives from Punta Cana, Bávaro, San Pedro de Macorís, San Juan de la Maguana, Nizao, Baní, San Cristóbal, Santo Domingo, Salcedo, Cotuí, Bonao, Puerto Plata and Barahona. There were also international troupes from Colombia, Spain, Aruba, Haiti and Miami.
The public enjoyed the parade from 19 stages, in addition to 10 bleachers with free admission, in a family atmosphere with live music and food trucks.
The event ended with a merengue concert with Eddy Herrera.
The Punta Cana Carnival was sponsored by the Ministry of Tourism (Mitur), Claro, Brugal, Banreservas, Consorcio Energético Punta Cana – Macao (CEPM), Canita, Grupo Rica, Bepensa, Induban – Café Santo Domingo, Universal, GB Energy – Texaco.
Also Banco Popular, Airport Team Solutions, Alpha Inversiones, Cana Rock, Banco BHD, Noriega Group, Grupo Raya – Wendy's, BM Cargo, Banco López de Haro, The Butcher Shop, Baskin Robins, El Catador, Hartemania, Tío Leo Cigars, Álvarez & Sánchez- Aperol, Grupo Medios EB, Coolekos, Grupo All Productions, Multicapital Marketing, Del Toro Medical Group, Pirulin and Grabo Estilo.
Source: Mitur.gob.do
Learn more: CULTURE