Through these eleven exhibitions you will be able to appreciate the best and most recent Dominican art.
In recent months more and more spaces such as museums, galleries and other places have opened their doors to new exhibitions dedicated to different artistic disciplines, thus giving recognized artists, as well as new creators, the opportunity to share their works with the rest of the world. Below, we will see a compilation of exhibitions that are currently available, the spaces in which they can be appreciated and what they have to offer to each person, regardless of their tastes.
"Inspired by you"
"Inspired in You" is an iconographic exhibition created in honor of the Virgin of Altagracia, which is part of the celebration of the first 100 years of her coronation. It will be available to the public until November 5.
Space: Casa Mella Russo (@casamellarusso)
"Works of Light"
The LIKURGO exhibition called "Works of Light" has been created by Argentine artist Judith Cisneros in homage to Carlos Cruz Diez. It is an immersive exhibition of light, color and meaning in which the artist alternates between illusion and reality. It is available to the public until September 2.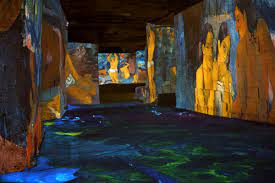 National Gallery of Fine Arts, Palace of Fine Arts (@bellasartesrd).
"The Threshold of Takeoff"
An exhibition curated by Laura Castro composed of works created across five decades at the Serigrafía Artística workshop conceived and represented by Félix "Cocó" Gontier and Alfredo Cordero since 1967. The exhibition includes more than 40 works and will be on display until August 28.
Venue: Centro Cultural de España en Santo Domingo (@ccesantodomingo)
"Breaking the Silence"
Another exhibition that you will find at the Cultural Center of Spain, in which artist Lina Aybar (@urdimbre_linaaybar) uses artistic languages to create images that served as a strategy for self-knowledge and to transit her pain. "Breaking the Silence" includes a guided tour on August 20 at 11:00 a.m. and the exhibition itself will be open to the public until September 3.
Venue: Centro Cultural de España en Santo Domingo (@ccesantodomingo)
"Implausible books: a selection of books object of the collection"
This collection contains a selection of books of limited editions, from a collection donated by don José León Asensio, covering various themes and including works such as "Los cocolos", by Nadal Walcot; "Fósforos: contém 10 pequenos e efêmeros encontros", by Polita Gonçalves; "Mutaciones del lobo", by Juan Manuel López and "Parts of a body house book", by feminist artist Carolee Schneemann. Open until August 27.
Space: Centro León Media Library (@centroleonrd).
"From the Earth"
Travels through the hand of artist Adela Dore 11 portraits of women in oil, through which Dore expresses the duality that exists between staying in the dark and coming out of it. In addition, this exhibition has a special dedication to sociologist Carlos Dore Cabral, the artist's father, who passed away in January of this year. It will remain open until August 25.
Venue: Museum of Modern Art (@museodeartemodernord)
"My Nikon and Me"
A selection of 36 sports photographs taken by visual artist Thimo Pimentel, 2016 National Visual Arts Award, for the publications of ¡Ahora! Magazine in the 1960s and 1970s. Closing on August 25.
Space: Centro de la Imagen (@centroimagenrd).
"Healing a Nation"
This photographic exhibition summarizes the most iconic and representative moments of the contributions made in 10 years of management of The Corporate Social Responsibility Alliance of the same name. It will be available until August 31 and visitors will be able to make contributions with a QR code and depositing in piggy banks for those purposes.
Space: Galería 360 (@galeria360)
Permanent Collection
At any time you can visit the Bellapart Museum and enjoy an enriching experience, since this space has one of the most valuable collections of Dominican art, with more than 2,500 works. Also, the Bellapart Museum has the most important collection of works by the master of Dominican painting Jaime Colson, which has been exhibited in several cultural institutions around the world.
Space: Museo Bellapart (@museobellapart)
Third season of Indómita
The third season of Indómita, which is inspired by the poetry of Pedro Mir, features pieces created as a link between fashion and poetry by designers Verónica Modesto of Bless My Funk Home, Distrito 79, Jacqueline Then, Jasmín Abu Naba'a, Lizander Jiménez and Sinead Fachelli. It will be available at Galería Indómita until December and the profits generated will be destined to the creation of a fund to support emerging designers and initiatives related to the mission.
Space: Galería Indómita (@indomita.do)
"De aquí y de allá" (From here and from there)
"De aquí y de allá" is an exhibition created to continue strengthening cultural ties between Puerto Rico and the Dominican Republic, as it is composed of works by artists from both countries. This exhibition includes creations by Puerto Rican artists Marcos Alegría, Diógenes Ballester, Jesús -Chuito- Cardona, Dafne Elvira, Carmelo Fontánez, Felipe Jiménez Marcell, Dennis Mario Rivera, Nora Rodríguez Vallés, Jorge Romero and Rafael Tufiño. Dominican art is also represented by the creations of artists Enriquillo Amiama, Ada Balcácer, Carlos Hinojosa, Mirna Ledesma, Miguel Núñez, Manuel Nina Cisneros, Ramón Oviedo, Cristóbal Rodríguez, Rosa Tavárez and Alberto Ulloa. The exhibition will be available to the public until August 31.
Venue: Museo de las Casas Reales
Learn More: Art