The embassy of the Dominican Republic in Austria, together with the country's Cigar Producers Association (PROCIGAR), the world's leading exporter of premium cigars, celebrated Dominican Night in Vienna, during which guests were able to taste three of the country's flagship products: tobacco, rum and chocolate. The event was held at the Leopold Museum in Vienna, a renowned museum that exhibits works by great artists such as Klimt, Schiele, Kokoschka and Oppenheime.
The welcoming remarks were made by Ambassador Laura Faxas, who spoke about the importance of this event as a strategy to promote and strengthen the internationalization of Dominican companies. Faxas also said that "we are proud to say that our country has world-class products and you can taste them today; products that are among the most important industries of the Dominican Republic: tobacco, rum and chocolate production.
For its part, Brugal & Cia offered to those present its exquisite 1888 rum, while Rizek Cacao, a wide variety of its chocolates, made with premium quality Dominican cocoa.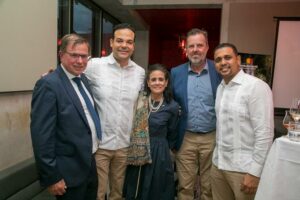 Mr. Hendrick Kelner, president of PROCIGAR, thanked President Luis Abinader and the Dominican Congress for declaring tobacco and cigars as Cultural Heritage of the Dominican Republic, since it is "a recognition that does justice to five centuries of tradition and culture to the most permanent agricultural product in our history". He ended his speech by saying that "we are the best, enjoying the best cigars in the world!".
The PROCIGAR team was composed of Wendy Sanchez-Imbert, executive director; Lisbeth Genao, Marketing and Promotion manager; Eric Rivas, brand consultant; Sara Lee Schuster, support. They were also accompanied by Mr. Abraham Flores, one of their main commercial partners and president of PDR Cigars.
The event, which was coordinated by the commercial attaché of the mission Felix Domingo, was also the stage for the exhibition of larimar jewelry, made by the German jeweler Thomas Jirgens, who is passionate about this precious Dominican stone.
Among the guests were businessmen, diplomats, government officials and special guests.
Learn More: CULTURE