The Dominican ambassador to India, David Puig, received at the offices of the diplomatic mission the Indian bachata teachers and dancers Gaurav Aggarwal and Yana Kaushykava, who visited them in connection with their participation in the First World Bachata Festival in the Dominican Republic, ADN Bachata World Festival to be held from 17 to 21 of next November in the city of Puerto Plata.
In this meeting they talked about the influence of the Dominican culture through the romantic rhythm of bachata in India and around the world. Mrs. Ana Fernando, First Secretary for Cooperation, Culture and Communications, and Francisco Solian, Third Secretary for Relations with the States and Union Territories of India, also participated.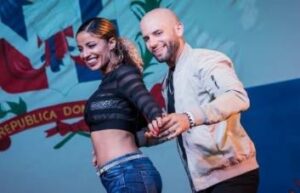 The couple of dancers promotes bachata in different cities of India, giving classes, workshops, and carrying out activities in tourist areas and in their private school in the city of New Delhi.
The festival to be held in Puerto Plata will feature the world's leading bachata dancers, such as Ataca and Alemana, the most famous and sought after couple in the market of bachata dancers in the world, also participating dancers Willi and Noura, Jorge Burgos, Alex Morel and Desirée Godsell, Junior Aquino and Carolina Bustamante, Maria Belen and Antonio Pino, among other dancers with an outstanding career in the field of bachata dancers.
Currently, more than 80 bachata festivals are being held in cities such as Paris, Shanghai, Mexico, Brazil, Prague, Canada, Spain, Italy, among others.
It should be noted that this is the first joint initiative of the "Two Cities One Destination" strategy promoted by ASHONORTE and ACIS to promote sustainable tourism development in the cities of Puerto Plata and Santiago.
Learn More: CULTURE