Zemí Hotels is a hotel that represents the culture of the Tainos and Dominican traditions, which is why it bears the name of the representation of the gods in which the Tainos, inhabitants of the island of Hispaniola when Christopher Columbus landed there for the first time in 1492, believed.
The explanation was offered by Frank Elias Rainieri, CEO of Facera Holding, promoter of the project, an initiative with an investment of more than US$181 million and in whose financing the Banco de Reservas is participating. The facility is already under construction and plans to open in May 2024.
"Culture is not a moment, it is history," he said to explain why to promote a different hotel, one that connects with history. "With this investment and development, I reaffirm my total commitment to the development and growth of tourism in our country and my confidence towards the excellent investment climate we have," he said.
Rainieri presented his project in an activity organized in the city of Madrid by the Ministry of Tourism, the Banco de Reservas and PROMICHES, a private entity that integrates the companies involved in the tourism development of the municipality of Miches, in the province of El Seibo, but located one hour, by road, from Punta Cana.
We are building, he said, an all-inclusive, super-luxury, low-density hotel with 520 rooms in an area that has 800 meters of beach, 380 of them with ocean views, and all those on the second floor will have their own swimming pool. Zemí Hotels is being built in Playa Esmeralda Miches, a fishing village, and will generate more than 900 jobs in this municipality. It will occupy a construction area of more than 500,000 sq. mts.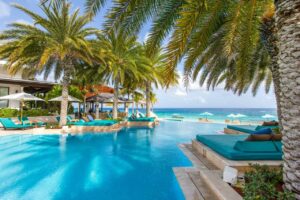 The objective is for guests to feel the expressions of the Taino culture and Dominican traditions, which will be present in all areas, represented in various forms and artistic expressions, from the moment they enter the Zemí Hotels facilities.
For this reason, Rainieri explained, one of the 7 restaurants will be dedicated to Taino gastronomy, and one of the bars will be dedicated to mamajuana, a Dominican tradition of flavoring rum by macerating it with different estillas and leaves of trees from our forests.
The hotel will have four swimming pools, 7 restaurants and bars, one of them on the beach. Also, large salon and Spa, water park, mini golf, family and adult only pools, vacation club, gym, green areas and gardens, tennis and paddle courts.
Its architectural design is inspired by our Taino roots and Caribbean elegance, which, integrating the captivating natural surroundings, will always be attached to the protection of the environment and ensuring its care.
Also, during whale watching season, guests will be able to participate in whale watching excursions in Samana Bay.
Source: bavarodigital.net
Learn More: CULTURE