The muralists, thirteen in all, are considered among the best of the genre and place Santo Domingo among the mural cities of the continent.
Thirteen muralists began painting twelve murals inspired by Dominican history in the New City last Thursday, August 11, to provide the area with a large public art museum and create a Tourist Route that will allow national and foreign visitors to tour it.
The project is an initiative of the Grupo Artístico Transitando and supported by Pinturas Popular, with the purpose of finishing on the 24th of this month of August, in order to create the Route of Murals of Dominican History.
The artists indicate that Pintando Nuestra Historia aims at beautifying the environment, valuing the national historical heritage, projecting Dominican artistic talent, activating the community's economy, promoting the development of cultural tourism and local artistic industries and enriching the tourist offer of our city.
Transitando informed that the twelve works are executed by Norkellys Acosta, Wanda Cortorreal, Ariel Santil, Pedro Veras, Willy Gómez, Torrijo Reyes (Medio Peso), Gabriel Doñé, Kilia Llano, Karina Croussett, Juan Miguel Ruiz, Héctor Ledesma, Jonás Muvdi and Sebastián Medina (from Colombia), assisted by painting students and cultural managers.
The performing artists are considered among the best of Dominican muralism and are high exponents of this genre of plastic arts in the Dominican Republic,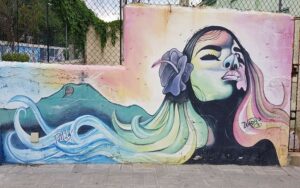 says the organizing group.
It explains that the project will place Santo Domingo in a privileged place in the Latin American urban art scene and refers that art is a transversal element in the social, intellectual and economic development of a nation.
They indicate that the aim is not only to beautify public spaces, but also to promote Dominican art and culture, contributing to the economic activation of the community and the country.
More than 50 people are participating in the murals, including artists, art students, cultural managers, producers, photographers, community members and personnel from local businesses, among others.
Cromcín Domínguez, director of Transitando, emphasizes that during the event, service providers from the Ciudad Nueva area will be used to support the community's economy, and workshops on financial management and entrepreneurship will be offered to the commoners, in order to fulfill the objective of promoting the economic development of the community.
Cultural managers Francisca Hidalgo, Rainer Lewis and Melissa Capellán will be in charge of coordination.
Jeremy Caro is in charge of the visual documentation and Cromcín Domínguez is the general manager.
Raúl Henríquez, marketing manager of Pinturas Popular, emphasized that the company supports this project as a way of reaffirming its commitment to the promotion of patriotic values and to fulfill one of its main corporate missions, which is to beautify the environment.
Learn more: ART