Chilean bookings for travel in November and December to the Dominican Republic have increased by 26% compared to 2021.
Of the 6.7 million tourists that have visited Dominican Republic in 2022, almost 100,000 arrived from Chile.
With the arrival of 491,788 tourists in October, the Dominican Republic accumulates 6.7 million visitors in 2022, allowing that destination to continue setting historical records in the sector. Likewise, ForwardKeys, a company dedicated to global travel intelligence, recently presented the Dominican Republic as the destination that has performed best with respect to the pre-pandemic in relation to the arrival of international visitors in the world this year.
Based on information from the Ministry of Tourism of the Dominican Republic (MITUR), it can be affirmed that Chileans frequently visit Punta Cana, a tourist who prefers places with lots of sun, beaches and in contact with nature. In that line, 98,616 Chilean visitors have traveled to the island during 2022, representing 2% of the total number of international travelers arriving to the Caribbean country.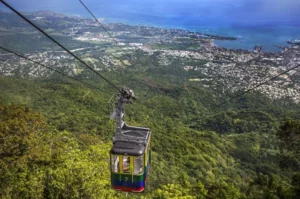 According to David Collado, Minister of Tourism of the Dominican Republic, "for the second consecutive year the figures for the month of October registered records. Compared to the pre-pandemic period and the data for the same month of 2019, we increased by 32% (119,582 people) the number of tourists entering the country, something truly historic. We estimate that by the end of 2022, more than 7 million tourists will have visited the Dominican Republic".
And according to data from the Ministry of Tourism of the Dominican Republic, compared to pre-pandemic levels (October 2019) to 2022, the increase of Chileans traveling to the island has increased by 2%, a figure that reflects that the preference for this tourist destination remains almost intact.
In addition, bookings for travel to the island in November and December have increased by 26% over the previous year.
It is worth noting that the increase in tourism activity in the Dominican Republic has generated $7,278 million dollars during the first 10 months of this year, an interesting behavior that allows us to glimpse at the end of the year, reaching $8,000 million dollars, according to information from MITUR.
The Dominican Republic maintains its position as a leading destination in terms of international tourism recovery, an achievement that is endorsed after being recognized in 2021 by the World Tourism Organization (UNWTO), by offering visitors an attractive range of world-class services and accommodations, luxury and nature experiences, extensive connectivity with major cities around the world, in addition to an exquisite cuisine that has been recognized as Intangible Cultural Heritage by UNESCO.
Learn More: DESTINATIONS