Monseñor Nouel is a province of the Southern Cibao that is characterized by the hospitality of its people, its cultural and historical heritage, as well as its natural and mining resources.
Picturesque rivers and bathing resorts, exuberant mountains, its carnival festival, the Voz del Yuna museum, and a great gastronomy are some of the attractions that can be appreciated and enjoyed in this province composed of three municipalities and seven municipal districts.
This weekend the Ministry of Tourism took "Tourism in Every Corner" to the Duarte Park, Bonao, its head municipality to promote and boost the tourist attraction of this province.
The Park welcomed hundreds of Bonao residents, who for two days enjoyed a wide exhibition of traditional products, gastronomy, handicrafts, fishing and agriculture. Also, tourism, exhibitions of plastic artists, Taino art and the best of the carnival of Bonao.
Within the framework of this activity, the Minister of Tourism, David Collado announced an investment of one hundred million pesos in tourist works, as well as another ten million for the Bonao Carnival.
He explained that the investment in tourist works will come out of a work table with local authorities, the tourist cluster and the church to reach a consensus on the priority works to be executed.
What to see, do and eat in Monseñor Nouel
There are many options to see and do in this province, mainly in Bonao, better known as "Villa de las Hortensias", because the hydrangea is part of the flower that embellishes this place.
One of the places that you can not miss when you go to this municipality is the Plaza de la Cultura de Bonao, located on Padre Billini Esq. This museum, cultural center and art school was founded by Cándido Bidó, one of the great Dominican painters, born in this municipality.
It is composed of an Art Center, which is integrated by five schools: fine and visual arts, theater, classical and modern dance; music with instrumentation and voice education and Special Education.
The Cándido Bidó Museum, in the plaza is also the Cándido Bidó Museum, a three-story building, plus a basement, which houses an important art gallery ranging from Taino art, African, national and Latin American painters, historical pieces of Bonao and a select sample of Bidó.
The museum carries out an important agenda of activities such as: the organization of workshops, lectures, conferences and exhibitions.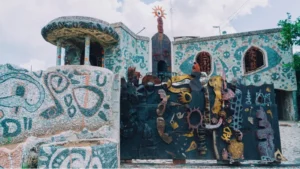 Casa Escultura Cristian Tiburcio is located at 15 Los Pinos Street in Bonao, owned by painter, sculptor, ceramist and muralist Cristian Tiburcio, who turned his own house into a work of art. The walls, stairs, windows, bathrooms, chairs, beds, even the kitchen furniture are ceramic works of art.
La Voz del Yuna Museum, here you will find pieces, objects and photographs that were an important part of the time when the radio station La Voz del Yuna operated in the 1940's. These pieces have great historical and cultural value for the province, since La Voz del Yuna was a pioneer in the country's radio, marking the beginning of Dominican television.
Carnival of Bonao, is celebrated from the last Sunday of January to the second Sunday of March, and is one of the main attractions of the country for its originality and organization.
Saltos de Jima, is one of the main attractions of Bonao. It is a group of twelve waterfalls and spas, which were declared a natural monument in 2009 in order to preserve its great aquiferous importance. Currently only Salto I and Salto II are available for visitation.
Also, the Blanco, Masipedro and Fula rivers are among the most popular and attractive tourist resorts in this municipality.
The gastronomy of Bonao, in this municipality and in the province, the fusion of flavors is very varied and mixes Creole and modern food. Some of its dishes include wild boar, guinea pig, fresh water fish, cheeses, fried carnitas, pork a la puya; there is also a great variety of desserts prepared with milk and coconut, as well as other fruits.
Creation of Monseñor Nouel
Monseñor Nouel was created in 1982 through the division of the province of La Vega, and its name was given in honor of Monsignor Adolfo Alejandro Nouel, archbishop of Santo Domingo and president of the Dominican Republic 1912-1913.
Monseñor Nouel province is divided into three municipalities and seven municipal districts (D.M.)
Bonao
Arroyo Toro-Masipedro (D.M.), Jayaco (D.M.), Juma Bejucal (D.M.)
La Salvia-Los Quemados (DM), Sabana del Puerto (DM)
Maimón
Piedra Blanca
Juan Adrián (DM), Villa Sonador (DM)
Its main economic activities are agriculture and mining. In Monseñor Nouel, there is ferronickel mining.
Its agricultural production generally consists of rice, cocoa and coffee. Cattle raising for the dairy industry also represents an important part of the province's economy.
Learn More: DESTINATONS