There is no doubt that the Espaillat province has an extraordinary wealth of ecotourism attractions for the enjoyment of its visitors, whether they are Dominicans or foreigners who wish to live the experience.
A sample of these natural attractions complemented with Dominican culture, empathy and gastronomy, is what is experienced in La Confluencia, in the municipality of Jamao al Norte, specifically in the house of Mrs. Reya (Reyita Altagracia Martínez) where visitors can closely appreciate the wonders of their environment and contemplate its exuberant natural beauty through the greenery of its lush vegetation.
At 183 kilometers, about two and a half hours from Santo Domingo, by private vehicle, is this haven of peace that allows you to live the experience and return the same day, or stay and enjoy the services and warm attentions offered by Mrs. Reya, along with her children Genesis, manager of a small cafeteria, and Emmanuel, in charge of the maintenance and assembly of the tents.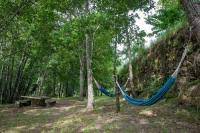 Surrounding activities
The tourism project that Mrs. Reya supports with her services is Jamao Ecotours, through which visitors can go on different excursions, such as kayaking, tubing, canyoning, horseback riding and hiking, Martínez explains.
Walking through the trails of this place is an unparalleled experience, watching a sunset from the mountains, enjoying campfires at night and sleeping in the tents offered by Mrs. Reya, is to be in direct contact with the well-being that Mother Nature provides.
Reya's services
These were born together with the beginning of the ecotourism development of the area in 2013, under the guidelines of the Council for Ecotourism Development of Jamao al Norte (CODEJAN), but, Mrs. Reyita Altagracia Martínez explains to us, all the facilities that she currently provides began to be given in full in 2015 with the beginning of Jamao Ecotours.
This entrepreneur in the tourism sector in the Espaillat province, provides services from lodging in tented houses to Creole breakfast, lunch and dinner services.
"My camping and restaurant services for clients are offered at my home, known as La Confluencia in the community of El Ramonal, about three kilometers from the center of Jamao al Norte," explains Martínez.
He has about 20 tented houses for both couples and families.
He offers a package for two people that includes the tent house with an inflatable mattress in a secure space with kiosk, and bathroom, as well as breakfast and dinner, for a price of 2,200 pesos.
Source: Mitur.gob.do
Learn more: DESTINATIONS