Three gastronomic options not to be refused
Despite having a commercial plaza suitable for the demand of Airbnb guests, Playa Palmera has three irresistible gastronomic options, restaurants that are always open, even available for tourists staying in hotels near it.
With an impressive hand-painted artwork featuring Yamilet, the wife of Andeas Hans Gweorg Helmut Metzler, better known as Andiii, those who attend Mami Chula can enjoy an extensive offer of Creole food.
The menu for lunch and dinner includes mofongo and various traditional Quisqueya dishes. Each of the proposals has a touch of natural seasoning without comparison.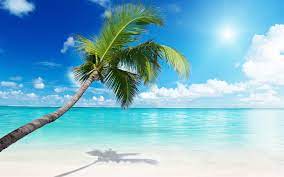 Breakfast options range from a light breakfast of fruits, with a variety of juices, cheeses, hams, and fresh breads, to heavier options with mangú, potatoes, and tortillas.
In the evenings, Mami Chula plays typical music, accompanied by a dancing couple.
Florecita Restaurant
With a variety of around 60 international dishes, high quality products and an enviable view, the Florecita restaurant within the Playa Palmera resort is undoubtedly that meeting point to feel treated like a king or queen.
From Peruvian, Thai, Indian, Japanese and Argentinean food, chef Wilfredo Frías promises to bring to every table dishes not to be forgotten. Frías is nationally and internationally certified.
The restaurant's manager, George Langumas, dedicates his time to ensure that the "quality and charisma that characterizes Dominicans is never lacking".
Castaways Restaurant
Sun, sand, waves and coconut palms are the appropriate setting for the Castaways restaurant, which has space to take a dip in the salt water while enjoying your favorite food.
Visitors have access to a choice of paella, if they prefer, as well as all seafood options to take to the table.
Lobster can never be missing among the options to choose from, so the demand is always high, even more so when accompanied by attractive prices.
Other options
Guests can continue to expand with the Popiii Cafeteria, Yummy Ice Cream Parlor, Andilini Pizzeria, Hermanos Pollito (fried chicken) and Palmera Supermarket.
Source: Mitur.gob.do
Learn more: DESTINATIOS