The Ministry of the Presidency and Korea Airports Corporation (KAC) signed on Tuesday a preliminary agreement for the evaluation of the construction of an airport in Pedernales, as part of the Pedernales-Cabo Rojo Tourism Development Plan, developed under the aegis of the Pro-Pedernales Trust Fund and the General Directorate of Public-Private Alliances.
The agreement, signed at the National Palace, was signed by the Minister of the Presidency, Joel Santos Echavarría and the Vice President of KAC, Young Gu Shin, and was attended by the Director of Public-Private Partnerships, Sigmund Freund; the Vice Minister of Economic Affairs and International Cooperation of the Ministry of Foreign Affairs (Mirex), Hugo Rivera; and the Second Secretary in charge of Political Affairs and Cooperation of Korea in the Dominican Republic, Seongbin Yeom.
"Today is a very important day for the Dominican Republic, because we are taking a transcendental step in two senses; on the one hand, we signed an agreement of understanding for the evaluation of the project to build an airport in Pedernales by a company like KAC; and on the other hand, the relationship between the Dominican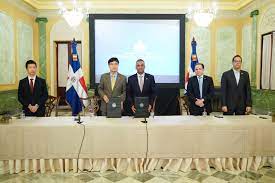 Republic and the Republic of Korea", indicated Santos Echavarría during the signing.
The minister said that the relationship between the two countries has been growing significantly in different aspects, touching in this case, one of the most important for the Dominican Republic: tourism, in an area where the Government has proposed to create a world-class destination.
"The experience that the Republic of Korea has in terms of airports would be fundamental at this time. The construction of the Pedernales airport is among the works that will give the greatest impact and economic dynamization to that area, because it will facilitate international connections and direct flights from different parts of the world will be able to arrive," said Santos Echavarría.
The Minister assured that the Pedernales Development Project will be a great success with partners such as the Korean Government. He said that this initiative will not only strengthen business between the two countries, but also opens up the possibility of a greater number of Korean tourists visiting the country.
"The President's visit next month will mark a before and after in the relationship between the Dominican Republic and the Republic of Korea, we hope that this initiative we are starting will be the first of many to continue strengthening the union between our two countries and that the KAC will be the first to carry the flag in economic relations," he said.
Source: Robertocavada.com
Learn more: DEVELOPMENT