The Embassy of the People's Republic of China hosted a reception this Monday to celebrate the fifth anniversary of the establishment of diplomatic relations between that country and the Dominican Republic.
At the same, the Vice Minister of Foreign Affairs, Rubén Silié, took the opportunity to thank the support given to the Dominican people and the Government of Luis Abinader during the Covid-19 pandemic.
He also pointed out that in these years the exchange between both countries has increased, representing for the DR some US$4,500 million and assured that "we are confident that this will continue to increase in the years to come".
Silié also expressed that "in the DR we will always be eternally grateful for the support received by Covid-19". He also informed that new projects will be announced for the well-being of all.
In his opening remarks, Chen Luning, Chinese ambassador to the DR, said that the tree of friendship between the two countries continues to grow, "not only in friendship, but in their investments in different productive areas".
The diplomat said that China will continue to offer its solidarity, so that developing countries can develop with their own characteristics.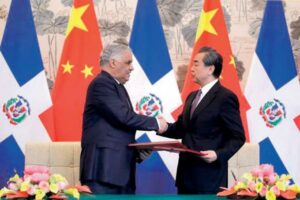 "We will continue to strengthen solidarity, deepening cooperation in all areas, you are all witnesses of the friendship between China and the Dominican Republic; we say in China that when brothers, friends, unite their wills they break any metal, that is why I vow that friendship will last forever," he said.
Chen Lenning reiterated the reciprocal respect and mutual benefits. He assured that the presidents of both countries maintain fluid communications by telephone. "Both countries have been able to support each other, we have maintained close ties for the bright future, so we keep good relations," he said.
He announced that both countries already have more than 20 agreements signed in economic areas, trade, agriculture, among others.
The Chinese ambassador delivered his speech alongside his special guests Roberto Fulcar, Franklin García Fermín, Rafael García, Santiago Zorrilla Ozuna and others.
Among the guests were senators Lía Díaz and Antonio Marte; congressmen Betty Gerónimo and Dionisio Restituyo; Rafael Feliz García, Minister of Youth, Rafael García, and others.
Also in attendance were, Jose Horacio Rodriguez, Omar Fernandez, Angel Laureano, Jose Ramon Holguin.
Source: Elnuevodiario.com.do
Learn More: DEVELOPMENT