The Minister of Tourism, David Collado, assured this Thursday that "tourism in the Dominican Republic is not a luxury, it is the main economic industry of the country", and they hope this year to reach the goal of 10 million tourists.
Collado reiterated that Dominican tourism represents 25% of the country's economy.
He emphasized that yesterday (Wednesday), together with President Luis Abinader, they received the visit of six businessmen "and among these six meetings of tourism projects there were investments for more than two billion dollars. It is believed in the transfer of this government that under no circumstances can we negotiate with the transparency and honesty with which we have led tourism".
The minister recalled that in 2022, 8.5 million tourists arrived "and I can say that this year the Dominican Republic's dream of reaching 10 million tourists is a reality because we are already projecting 9.8 million tourists contacting by air and cruise ships", said Collado during a press conference at the Date 2023 tourism fair.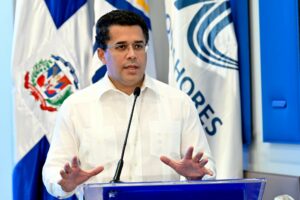 Tourism Security
Collado emphasized that they intervened the Sousa beach, where they invested more than 600 million pesos to put an end to prostitution and child abuse in the area and in the whole country.
"Those who want this type of tourism should go to another country, not here in the Dominican Republic", warned the minister.
Collado said that security is a priority for the Dominican Republic, and that is why they are investing in the tourist police and delivered more than three million dollars to the director of Politur, in equipment for its reinforcement.
He indicated that to date they have had no incidents regarding the safety of tourists. "We are betting on safe tourism".
Source: Acento.com
Learn More: DIVERSE