The International Tourism Fair -in its 43rd version for the year 2023- closed this Sunday as expected: It was a success.
This is the balance: during the five-day fair, a total of 222,000 attendees gathered, with a growth of 99.6%, almost double that of 2022, according to the organizers.
According to the profile of the participants, 136,000 professionals have been counted, which represents a 68% growth and 86,000 estimated visitors after the closing of its two days of public, which practically multiplied by three times last year's figure. Organized by the Madrid Trade Fair Center (Ifema Madrid), this year's version had Guatemala as a Fitur Partner Country.
Last year, it was the Dominican Republic, a Caribbean nation that was a shining example and became a reference when it comes to this type of event.
The Dominican Republic was once again well represented in Madrid and showed a high level of organizational and assembly capacity to present the best of itself abroad.
If we look at the fair in terms of participation, it brought together 8,500 companies, 131 countries, 755 exhibitors, in eight pavilions of the fairgrounds, which represented an area of 66,900 net square meters of exhibition space.
This equaled the occupancy of the year 2020. The number of arrivals at Fitur is estimated to generate an impact on Madrid's economy of approximately 400 million euros, equivalent to 252,800 million.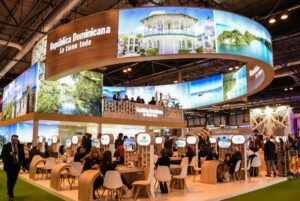 Fitur has also registered a major milestone in the digital sphere, with traffic to Ifema Madrid's website soaring exponentially on the first day of the fair alone, reaching an all-time record of 146,000 visits.
In this same context, the Fitur LiveConnect digital platform, which complements the fair with a hybrid format of greater temporal and geographic scope, now has more than 56,000 registrations, compared to the 31,000 total in 2022. Fitur highlighted the great dynamism of the entire value chain of the tourism industry, and the good prospects for growth of this activity worldwide.
This time, Fitur was visited by the President of Guatemala, Alejandro Eduardo Giammattei, Partner Country of this edition, as well as the President of the Government of Spain, Pedro Sánchez; the Vice President of the Dominican Republic, Raquel Peña; representatives of the World Tourism Organization (UNWTO); a total of 30 Ministers of Tourism from different countries, including the Dominican Republic's David Collado; the Ministers of Economy and Social Affairs of Guatemala; six Spanish ministers; 15 presidents of Autonomous Communities and Tourism Councilors from 16 communities, and a hundred ambassadors and business representatives, and mayors from different towns and cities in Spain.
A total of 400 authorities attended this edition of Fitur.
Source: Elcaribe.com.do
Learn More: DIVERSE