The Dominican tourism sector has guaranteed the supply of agricultural products in view of the increase in the number of visitors to hotels due to the Easter holiday.
According to the Vice Minister of Production and Marketing of the Ministry of Agriculture, Eulalio Ramírez, there will be no shortage because there is a high agricultural production at the national level to supply the tourism sector, and even to export to the neighboring country of Haiti.
"We have a stable production and aimed at supplying all the requirements demanded by the sector for this coming Holy Week", he emphasized.
He informed that the conditions are in place to supply all the hotels in the north, south and east of the country, which will receive thousands of tourists for the 2023 holiday week.
He expressed that the demand that the sector presents in any period of the year, is always guaranteed through the commercialization chain, thus having fresh and high quality products. "We have always had an abundance of agricultural products, so there is no need to worry about shortages", he said.
However, he explained that the Government's planning includes working to ensure Haiti's food security, since its food demand depends on Dominican production.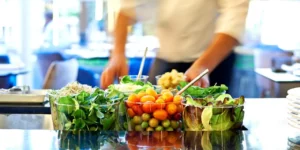 He pointed out that they are currently working to supply around 30 million people, including the eight million tourists who visit the country, almost 11 million that are exported to Haiti and the remaining for local consumption. "To guarantee social peace, we also have to produce in large part to supply the neighboring country with the food that they do not produce, but which they do demand," he said.
He highlighted that the Ministry of Agriculture is working to strengthen exports which in 2022 increased by 22% to the United States, where also, it was possible to unblock the export of beef to that nation.
Occupancy
The hotel sector has high expectations to increase occupancy by more than 90% during Easter Week 2023.
Source: Mitur.gob.do
Learn More: HOTELS