The Rannik Group, together with the multinational company United Parcel Service (UPS), inaugurated an air cargo warehouse at the Las Americas International Airport (AILA), an event headed by President Luis Abinader.
These companies are already importing and exporting products such as vegetables and fruits, electronic and medical devices, cigars and textile raw materials.
The President did not speak during the ceremony. At the end of the ceremony, he toured the facilities guided by the executives of the two brands.
According to the description provided by the companies, the new warehouse has a cold room of 33,000 square meters, which operates between 2 and 8 degrees Celsius, for imports, and a cold room for exports with a pre-chamber of 210 square meters, which operates at 15 degrees Celsius.
It also has a 265-square-meter chamber that operates between 2 and 8 degrees Celsius. Both would be equipped with the most modern European technology to preserve the cold chain of the goods.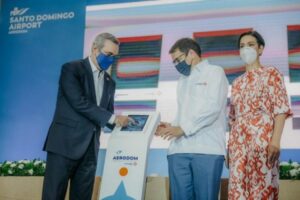 These buildings have capacity for 2.5 million pounds per month of exports and 2 million pounds per month of imports. With 24-hour working days, its capacity would increase to 5 million pounds per month for exports and 6 million pounds per month for imports.
The space also includes offices for the General Customs Directorate and the National Drug Control Directorate, as well as a space for phytosanitary inspections.
All operations are regulated by the Cuerpo Especializado de Seguridad Aeroportuaria y Aviación Civil (Cesac), using X-ray machines and a canine unit.
The General Director of Customs, Eduardo Sanz Lovatón, indicated that this is one more step towards the Dominican Republic's goal of becoming a logistics hub in the region.
Source: Diariolibre.co
Learn More: NEWS