Air traffic through the Gregorio Luperón International Airport of Puerto Plata will be suspended from May 8 to 17, in order to carry out the second and last phase of the repair and remodeling works of runway 08 and 26 of this airport terminal.
Aeropuertos Dominicanos Siglo XXI (Aerodom), explained that the works will be carried out with the objective and "the commitment to maintain the highest standards of operational safety at the airport".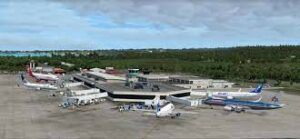 The runway will be closed from 12:00 pm on Monday, May 8, 2023 until Wednesday, May 17 at 11:59 am.
These works imply an investment of more than US$4.5 million, "which will extend the useful life of the runway, improve aircraft operating conditions, as well as correct the leveling of the slabs in the central section of the runway".
Aerodom also emphasized that these works will allow to continue receiving wide-body aircraft without restrictions, which favors the expansion of flights between Puerto Plata and Europe, as well as other long-distance destinations.
"As we announced in 2022, we will be executing in May of this year the second and last phase of this important intervention that will improve the taxiing conditions of the runway in Puerto Plata and extend its useful life," said Aerodom.
Source: listindiario.com
Learn more: NEWS