President Luis Abinader seeks that airlines from distant countries maintain direct routes to the DR and increase their number of flights in view of the tourism boom.
In his firm decision to increase the flow of foreign tourists to the Dominican Republic and ensure the strength and dynamism of the tourism sector, President Luis Abinader is in direct contact with potential foreign investors and major airlines with long-haul frequencies to continue and return their operations to the country.
As part of this offensive, this week the head of state, accompanied by the Minister of Tourism, David Collado, held a meeting with executives of the French airline Air France, a company that announced the reduction of its flights to Latin America and to which the Dominican government proposed that instead of decreasing, it would plan together how to significantly increase its operations to the Dominican Republic.
Tourism Minister David Collado spoke exclusively to ACD Media, in the program Ahora, la Super Siete, on 107.7 FM during his participation in the opening of the XXXIV Commercial Exposition of the Association of Hotels and Tourism of the Dominican Republic, in Blue Mall Punta Cana.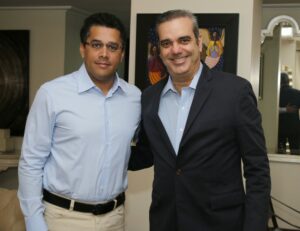 In assessing these meetings, Minister Collado said that the country remains number one in the first four months of the year in number of visitors and that this year is expected to close with a record number of 7 million visitors.
He also reported that in the second quarter of the year the number of visitors reached 400,000, an increase of 80,000 tourists compared to 2018 and 2019. He emphasized that this flow allowed important income in foreign exchange and taxes.
It is recalled that by provision of President Luis Abinader, the Government, applies several measures to boost the tourism sector, including an investment of RD$420 million in promotion and agreements with airlines to ensure routes, economic support, fiscal flexibility, monetary measures, a guarantee fund, credit support for small and medium enterprises, and the creation of a health insurance by the State for tourists who may be affected by the COVID-19.
Learn More: NEWS