David Collado announces investment of more than 650 million pesos for the development of tourism in La Vega
The Minister of Tourism led the inauguration of Expo Vega Real 2022.
The Minister of Tourism, David Collado, announced this Thursday an investment of more than 650 million pesos in different works to strengthen the development of the sector in this destination of the northern region.
Delivering the keynote address at the inauguration of the twenty-sixth edition of Expo Vega Real, which takes place from September 1 to 4, 2022, at the Country Club of this city, Collado highlighted the tourism potential of this province.
"From the Ministry of Tourism we will spare no effort to guarantee the definitive take-off of tourism in this beautiful province," said the official.
He also reiterated that the recovery of tourism is total in the Dominican Republic, where more and more visitors are arriving.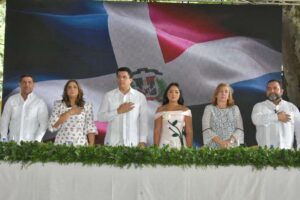 Collado said that the effort to achieve the recovery of tourism has been worthwhile, since thousands of people returned to their jobs.
"My greatest satisfaction is when I visit a destination and someone comes up to me and tells me that thanks to the work we have done they recovered their job and with it the economic stability of their family," he said.
"For me," he emphasized, "tourism has a human face. Its welfare must be felt by the people".
The official recalled that, in August, MITUR launched its campaign "Tourism in every corner", which has as its main objective to highlight the potentials that each province of the country has, emphasizing, that La Vega has countless tourist attractions in each of its municipalities, from nature with a pleasant climate, extreme sports, gastronomy, rivers, mountains, among others.
This version of Expo Vega Real, held for the first time after COVID-19, has as its slogan "Live the Experience in the Capital of Ecotourism".
The main objective of Expo Vega Real is to highlight the importance of sustainable development in the region, as well as to promote the tourism and cultural offerings of the municipalities of Jarabacoa, Constanza, Jima and La Concepción de La Vega.
During these days a wide range of activities will take place, including conferences and panels on provincial development through commerce, artistic and cultural presentations, exhibition and sales of products, handicrafts, etc.
Learn More: News