Héctor Porcella affirms that Arajet's take-off will have an immediate impact on tourism and economy
The interim general director of the Dominican Civil Aviation Institute IDAC, Héctor Porcella assured that the operations of the new airline Arajet, will have an immediate impact on the growth of tourism and the strengthening of commercial aviation in the country.
Porcella emphasized that the new low-cost airline will connect the Dominican Republic with 22 destinations in 12 countries, which will have an immediate impact on the growth of tourism, the strengthening of commercial aviation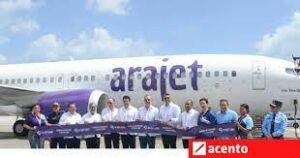 and its contribution to the national economy.
The official made his remarks after participating in the official inauguration of Arajet's first flight to the city of San Salvador, capital of El Salvador, in the presence of President Luis Abinader, Tourism Minister David Collado and the main authorities of the Dominican aeronautical sector.
After the symbolic cutting of the ribbon, held at the José Francisco Peña Gómez International Airport of the Americas, President Abinader expressed his congratulations to the Arajet airline, assuring that the launch of its operations will benefit all Dominicans.
He stated that from the Government, the responsible authorities will be giving all the necessary support so that the Dominican aeronautical industry can be as competitive as possible, and can move towards the creation of an air hub that promotes tourism, trade and cultural exchange, and gives Dominicans the opportunity to travel at reasonable prices.
While Pacheco Méndez stressed that the low-cost business model and national airline status will attract more tourists, increase connectivity and offer Dominicans the opportunity to travel at lower fares, aboard new aircraft with the highest safety standards, and our distinctive and warm Dominican customer service.
Minister David Collado also referred to the impact of the new airline on tourism, stating that it will contribute to the growth of the industry, attracting more visitors, especially from destinations with which the country until now had no direct connection, "which will propel us to continue reaching record numbers in tourist arrivals, and also diversifying the nationality of our visitors with fair fares to connect Santo Domingo with the continent".
Learn more: NEWS