The Asonahores Commercial Expo seeks to allow suppliers to showcase their products and offers directly to buyers.
The Association of Hotels and Tourism of the Dominican Republic (Asonahores) inaugurated the 34th edition of its traditional event "Expo Asonahores", the fair with the greatest impact in the country on the tourism industry.
This year the trade show is dedicated to the United States as the main country of origin of tourists to the Dominican Republic.
Approximately 400 commercial kiosks and 200 companies will participate in this event, which brings together all suppliers of national and international products and services.
The idea is that this space will allow suppliers to exhibit their products and offers directly to buyers.
Rafael Blanco Tejera, president of Asonahores, highlighted the contribution and evolution of the tourism hotel industry in the Dominican economy, stressing that through this the country has received greater foreign direct investment, increased job generation and foreign exchange earnings.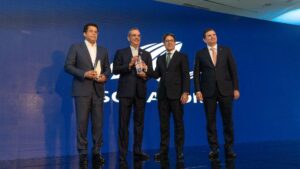 "We see in recent years greater foreign direct investment, greater generation of jobs and foreign exchange earnings, being the activity of hotels, bars and restaurants, so far this year, the largest contribution to the growth of the Dominican economy. At the moment, tourism represents more than 16% of the GDP, an important and direct contribution to the Dominican economy, for example, for the period 2009-2019 the tourism demand generated a GDP of US$ 85,468 million equivalent to 1 year of the total GDP of the economy", he said.
He also stressed the importance of each actor involved in the tourism industry, from service providers, agencies, carriers to artisans, as he understands that each of these builds the experience of satisfaction of the tourists who visit.
This trade show takes place at BlueMall Punta Cana from Wednesday, October 19 through Friday, October 21.
Learn More: TOURISM