The Minister of Tourism, David Collado, started work on the project for the Reconstruction and Conditioning of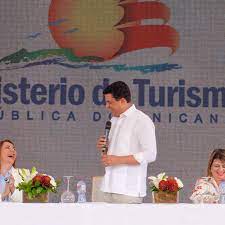 Streets, Sidewalks and Curbs in the Colonial City of Santo Domingo, with an investment of over 109 million pesos.
The work is being carried out by the Executing Committee for Infrastructure in Tourist Zones (CEIZTUR) of the Ministry of Tourism, as part of the Colonial City Action Plan 2022, launched by the Dominican Government, which seeks to revitalize the roads not included in the Street Rehabilitation Project financed by the Inter-American Development Bank (IDB).
This refurbishment is a complementary project that will allow all the roads of the Colonial City to be equally revitalized and will directly benefit the communities of San Antón, Santa Bárbara, San Miguel, San Lázaro and also the southwest.
Minister Collado said that the execution of this project is a sign of the Dominican Government's commitment to meet the demands of the different communities of the Colonial City and to turn the historic center into a model for the country and the region, generating development and well-being for all its residents, merchants and visitors.
"With this investment we reiterate our commitment to this Colonial City and all its surroundings to continue strengthening its tourist offer full of history and flavors," said Collado.
The work seeks to boost the productive structure associated with tourism, with the improvement of the road infrastructure of the Colonial City.
It also seeks to improve vehicular and pedestrian accessibility, offering residents and tourists safety and a clean and beautified urban environment.
The project includes the repair of streets, sidewalks, curbs, curbs, walls, speed bumps and the removal of asphalt paving, tablets, bricks and cobblestones.
Minister Collado was accompanied by the Minister of Culture, Milagros Germán, and Juan Mubarak, National Director of Monumental Heritage of the Ministry of Culture, among other officials.
Source: Mitur.gob.do
Learn more: NEWS