MARCH 2020
12 provinces free of COVID-19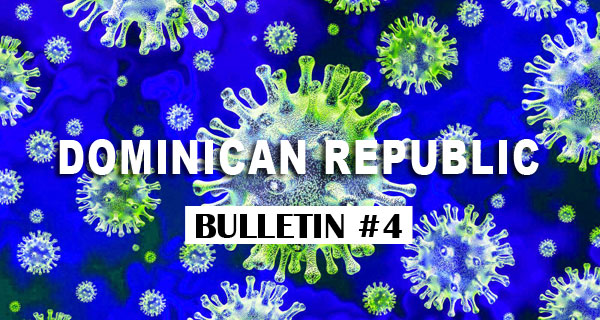 In the Dominican Republic, 661 cases of coronavirus (COVID-19) have been ruled out by laboratory tests; 312 positive cases have been confirmed, including 3 recovered persons and 6 deaths.
The information was announced by Public Health Minister Rafael Sánchez Cárdenas at a press conference held by video conference and broadcast live on the President's Office website and channel 4RD.
He said that of the positive cases, 68 are in hospital isolation and 236 are in home isolation. While 45 have a history of travel to countries with local transmission of the virus.
He also reported that 57% of confirmed cases are men and 43% are women, with an average age of 45.
The Minister of Public Health lamented the death today of the prominent Dominican fashion designer, Jenny Polanco, due to COVID-19.
History of illnesses of the deceased
Sánchez Cárdenas said that the average age of the dead was 64, 67% of whom were men between 51 and 84.
He explained that they had a history of chronic diseases of long evolution such as arterial hypertension, diabetes, renal failure, chronic obstructive pulmonary disease and tobacco consumption as a risk background.
Deeper interventions
The Minister of Public Health highlighted that the area with the highest number of confirmed cases of COVID-19 is the National District with 137, followed by the provinces of Santiago with 44, Santo Domingo with 40 and Duarte with 29.
He announced that the places most affected by the virus will be the subject of more in-depth interventions and that they will involve an increasing number of citizens.
In other words, in restricting movement, in taking hygiene measures and in notifying cases of symptomatic people who are positive and who, for whatever reason, do not go to health centres.
At the same time, he asked public and private medical centers to speed up the notification of cases of COVID-19.
Early notification is a great resource for government planning and decision-making.
Coronavirus confirmed cases in the Dominican Republic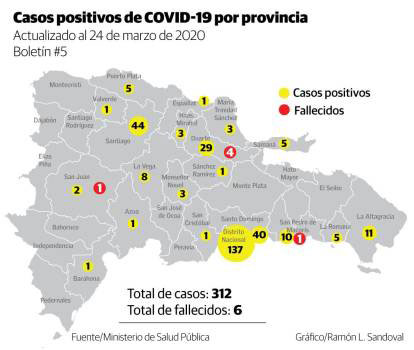 COVID-19 free provinces
The provinces free of cases with the COVID-19 correspond to Bahoruco, Dajabón, Elías Piña, El Seibo, Independencia, Montecristi, Pedernales, Peravia, Santiago Rodríguez, Monte Plata, Hato Mayor and San José de Ocoa.
Sánchez Cárdenas encouraged the inhabitants of these provinces to keep their communities free of coronavirus and to continue complying with the measures indicated for hygiene, protection and enclosure of families.
Recommendations
It also reiterated that the recommendations continue to be isolation and care at home for people who present mild symptoms or signs, in accordance with the guidelines of the Ministry of Public Health, for which a guide to driving at home and in the community has been circulated.
It also urged people who present respiratory symptoms to wear masks and not to attend crowded places.
Go to the doctor if you have symptoms or respiratory distress that associate the possibility of contact or other situations with COVID-19, go to the doctor if you have flu, cough, respiratory distress or chronic illness such as hypertension, diabetes, heart disease, kidney failure, loss of consciousness or convulsions.
He also pointed out that with these measures and all those that have been followed by the Dominican Government, "with everyone's participation, we are sure that we can defeat this epidemic that is devastating us.
Recognition of the population
Similarly, he expressed his congratulations to the citizens who, in compliance with the indications of the authorities, have assumed a behaviour of solidarity with the measures to guarantee the protection of their families and their communities.