Vice President Raquel Peña and Minister David Collado highlighted the importance of the "Tourism in Every Corner" program, which they defined as the perfect platform to promote and strengthen domestic tourism in the Dominican Republic.
While leading a tour of different attractions in the municipality of Bonao, Monseñor Nouel province, where the "Tourism in Every Corner" program took place this weekend, both highlighted the importance of promoting the beauty of each place in the country.
They called on the population to engage in domestic tourism, a segment which increased from 5 to 15 percent during Collado's term at the Ministry of Tourism.
Valuing the importance of developing domestic tourism in the country, they affirmed that "Tourism in Every Corner" is an initiative that has been created in order to invite Dominicans to visit and explore the beauties of the country, which is not only sun and beach.
Chosen as the second province in the continuation of "Turismo en Cada Rincón, Descubre lo Nuestro", Monseñor Nouel shows the world its endless ecotourism and cultural potential during two days of activities full of festivities, color and surprises.
Within the framework of this activity, Minister Collado announced an investment of one hundred million pesos in tourist works in this province, as well as another ten million for the Carnival of Bonao.
He said that Monseñor Nouel is among the first provinces of the Cibao with the greatest wealth and potential to be visited by national and foreign tourists.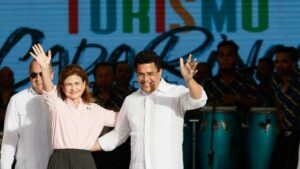 "We are going to get the best out of Bonao", emphasized Collado, after highlighting the enormous potential in cultural and natural resources that this region has.
In this sense, and among the initiatives to be implemented in this locality, Collado announced the creation of a tourist route of Bonao to be included in the promotion of the country at international level.
Likewise, he expressed that the investment in tourist works will arise from a work table with local authorities, the tourist cluster and the church to reach a consensus on the priority works to be executed.
On his second day, Collado visited each of the exhibitors that covered the greenery of the Juan Pablo Duarte Central Park of the head municipality, which included the most representative of the strengths and identity of the province in traditional products, handicrafts, fishing, agriculture, exhibitions of plastic artists, Taino art and the best of the carnival of this region.
Three entrepreneurs were also recognized with a contribution of 100 thousand pesos each, to be invested in their projects.
Learn More: TOURISM