The Port Authority exhibited to the Florida-Caribbean Cruise Association the improvements of Dominican ports to receive cruise passengers.
The executive director of the Dominican Port Authority (APORDOM) presented to members of the Florida-Caribbean Cruise Association the progress made by Dominican ports towards the goal of making the Dominican Republic the cruise hub of the Caribbean.
Jean Luis Rodríguez, director of APORDOM, highlighted the efforts of the Dominican Government together with the private sector to go from three terminals to eight cruise ports and thus increase the capacity to receive tourists by sea, whose figure to date is around 816,408 passengers from January to date.
"Today we are receiving cruise passengers in two anchorages and four cruise terminals (San Souci, Amber Cove, Romana and Taino Bay, the latter two in expansion), in execution we have two more terminals (Port Cabo Rojo and Samaná Bayport), a process with the DGAPP for Arroyo Barril and the design analysis of a last one, in Barahona".
While participating in the 28th edition of the Florida-Caribbean Cruise Lines Association (FCCAA) Conference, Rodriguez said: "I want to thank the FCCA for being an important ally in the journey that drives us to make our country a reference in the cruise industry".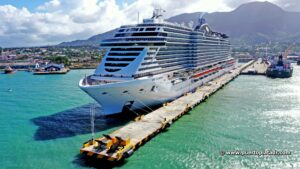 APORDOM is participating as a platinum member of the 28th edition of the Florida-Caribbean Cruise Association Conference in the Dominican Republic. The conference will feature private meetings with cruise lines, panel discussions on the industry and a Marketplace exhibition.
This event, which brings together the main entrepreneurs of the cruise sector, will offer the country the possibility of closing negotiations for new cruise lines and for the existing ones to increase their touches.
The Florida-Caribbean Cruise Association is a non-profit trade organization comprised of 22 affiliated cruise companies, which operate more than 100 ships in the State of Florida, the Caribbean and Latin America, as well as platinum members made up of government authorities, ports, tour operators and other service providers.
Earlier this year, the FCCA recognized the Dominican Republic for its strong growth in the cruise industry.
Learn More: ECONOMY