Dominican President Luis Abinader will attend the coronation ceremony of Charles III in London next Saturday, his office announced on Tuesday.
Abinader will leave the country tomorrow, Wednesday, accompanied by the first lady, Raquel Arbaje, who will arrive in the English capital on Thursday.
"As president of the Dominican Republic, with my wife @raquelarbaje, we will attend the historic coronation ceremony of Their Majesties King Charles III and Queen Camilla on May 6 in London. We thank Their Majesties for this invitation that strengthens our relationship", wrote the ruler himself on his Twitter account.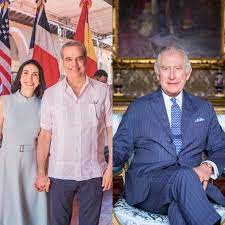 Abinader will begin his official agenda on Friday with a breakfast hosted by the British royal family for representatives of the island states and, on the afternoon of that day, he will attend a reception for Charles III and Queen Consort Camilla at Buckingham Palace.
On Saturday Abinader and Arbaje will participate in coronation ceremonies at Westminster Abbey and then attend a luncheon hosted by the British Foreign Office.
Abinader and the First Lady will return to the Dominican Republic next Sunday night.
Bilateral and commercial relations between the United Kingdom and the Dominican Republic date back to August 1848 and, in 1950, both nations signed the first Agreement on Friendship, Commerce and Navigation.
Currently, the United Kingdom is the main market for conventional bananas for the Dominican Republic.
Source: Eldinero.com.do
Leanr more: NEWS