MAY 2013
Zoila Violeta Martinez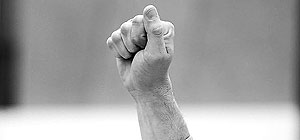 The Senate of the Republic designated yesterday as the Defender of the People (or Ombudsman) the lawyer Zoila Violeta Martinez Guante, who has been the District Attorney of the National District as well as the Dominican ambassador to the Republic of Korea.
The Upper Chamber accepted the proposal submitted by the Special Commission which was charged with the evaluation of the candidates for this post, the substitutes and the deputies which were submitted by the Chamber of Deputies.
The first substitute was also chosen in the person of Carlos Hernandez Cabrera, with Ruddy Nelson Frias Angeles as second substitute, Maria Inmaculada Ramos Abreu as first deputy and Maria Altagracia Batista Mejia as second deputy.
The figure of the Defender of the People, or Ombudsman, was described in the current Constitution which went into effect in 2010 and its creation was established by Law 19-01.The selection was approved with 15 votes in favor against 7 against.
The president of the Senate, Reinaldo Pared Perez, in talking about Martinez said that although Law 19-01 established the fact that the Ombudsman should be selected with the favorable vote of 2/3 of the membership of senators, the Constitution of the Republic establishes that the person should be elected with 2/3 of the votes of the senators present, so that this post will be filled according to what the Constitution says.
Pared Perez said that personal ties join him to Dr. Felix Antonio Cruz Jiminian, and although he stressed the doctor's great social work, he was in favor of the selection of Martinez Guante for her experience in the public administration. Zoila is really helped by the fact that she was the District Attorney of the National District, he said.
In the meantime, senators Wilton Guerrero, Euclides Sanchez, Juan Orlando Mercedes said that although the selection of another person was a fact, they felt that this post should have gone to Cruz Jiminian.
And Rafael Calderon, a member of the special commission that recommended the list chosen by the Senate stressed the importance of leaving sentiments to one side and act with responsibility selecting Martinez for her experience in the public administration and in the Justice Department.