MARCH 2013
Crystal-clear water, upscale beachfront hotels and secluded islands
Dominican Republic's crystal-clear water, upscale beachfront hotels and secluded islands make it the perfect spring getaway. Surrounded by nearly 1,000 miles (1,609 km) of coastline, Dominican Republic is known for the world's most glorious beaches. And as one of the closest international destinations for Americans, this second-largest Caribbean country pairs affordability with all that its regions offer to make it a vacation destination unlike any other.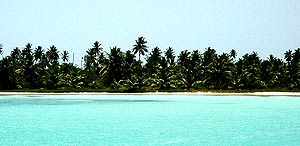 Dominican Republic's dedication to its coastal areas' preservation makes it one of the world's most celebrated beach destinations, said Magaly Toribio , Marketing Advisor for the Dominican Republic Ministry of Tourism. Seasoned travelers, families and couples alike enjoy the resorts' private beaches for the seclusion and relaxation, or embrace the nearby public beaches' contagious energy.
Whether travelers want their spring getaway packed with beach activities or one that is tranquil and private, Dominican Republic has it all. Choose from the variety of seashore selections found in Dominican Republic's cities:
Puerto Plata's Adventure Beaches:
Cabarete Beach – Not far from the city, Cabarete Beach is a nationally recognized kite boarding spot known for warm waters and perfect trade winds. Its aquatic sports attract adventure-seekers, and nearby equipment rentals and lessons are available for those who need it.
Playa Dorada– Just east of Puerto Plata , Playa Dorada boasts Blue Flag certification for its clear water and clean sand. The resort area offers recreational sports and the beach is active as visitors swim, kayak, windsurf and kite board. Many also take long walks along its amber coast and dip their feet in the warm waters.
Sosua Beach – Located 20 minutes east of Puerto Plata is the U-shaped bay Sosua, which started Dominican Republic's beach tourism. It draws divers and snorkelers because of its turquoise-colored sheltered waters that contrast beautifully with the sandy bottoms and intricate reef structures.
Samana's Serene Beaches:
Cayo Levantado – At the center of Samana Bay and just a few minutes by boat is Cayo Levantado, a small island surrounded by beautiful beaches. The white-sanded beach's waters are calm and shallow, perfect for swimming and snorkeling. Nearby local huts have Dominican cuisine and the atmosphere is an unforgettable getaway.
Playa Bonita – Samana's small town Las Terrenas is home to Playa Bonita, a large bay with several international boutique hotels, private villas and renowned restaurants. The beach has two sections – the western part with still swimming water and the eastern area where the waters are active and ideal for surfers.
Playa Rincon – The 1.2 mile (1.9 km) beach-bay Playa Rincon is secluded and perfect for a peaceful escape as it is far from most resorts with only a few restaurants. The cliffs of Cape Cabron surround the white sanded beaches and palm trees line the sapphire waters, making it a private paradise worth visiting.
Punta Cana's Glamorous Beaches:
Bavaro – Bavaro is Punta Cana's easternmost province and the most commercially developed areawhere tourists are satisfied whether they stick around the resorts or venture out to nearby attractions. Regardless, the surrounding crystal clear water and relaxing atmosphere will make everyone completely comfortable.
Playa Macao – North of Punta Cana near the area's resorts is the off-the-beaten-path public beach called Playa Macao. Palm trees hover over its unfettered white sand and fresh food vendors replenish beach-goers with Dominican Republic staples.
Uvero Alto – A rustic beach village north of Playa Macao is Uvero Alto, an area with coconut groves and stunning bronze-colored beaches. Some parts have large waves, while others have reef-protected calm waters. Stake out the ideal beach spot, and soak up the Caribbean's warmth and the air's crisp breeze.
La Romana's Island Beaches:
Playa Bayahibe – Originally a small fishing village, Playa Bayahibe is now complete with small hotels, seafood restaurants, shopping centers and craft huts. At night, the beach is empty aside from visitors watching the moon illuminate the water's glow as they sit in the comfort of the sand.
Isla Catalina – Isla Catalina is a small island surrounded by a marine coral reef nature preserve, at its center a tropical forest encircled by fine white sand and calm waters. The island is easily accessible by boat and excursions are provided by the surrounding hotels.
Isla Saona – Isla Saona is 14 miles (22.5 km) long and three miles (4.8 km) wide, and is home to 112 species of birds, and turtles, sharks, dolphins, and manatees. Fishermen bring visitors to the island, which is complete with facilities.