APRIL 2014
DR President Danilo Medina officially inaugurated two new air traffic control centers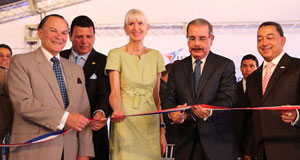 Dominican Republic President Danilo Medina officially inaugurated two new air traffic control centers in Santo Domingo and Punta Cana in a joint event this week.
The two air traffic control centers were built at a combined cost of $15.64 million, according to an estimate provided by the government of the Dominican Republic.
According to Alejandro Herrera, the director of the Dominican Institute for Civil Aviation, the two centers are equipped with surveillance consoles and up-to-date flight data processors and data recording equipment.
Loretta Martin, director of the Regional Office of the International Civil Aviation Organization, suggested that the Dominican Republic had the most developed civil aviation sector in the Central American and Caribbean region.
Herrera said the Dominican Republic had seen 6.6 percent growth in air operations in the first months of 2014.