Dominican Republic started this 2023 with many new features. We already know that it is one of the favorite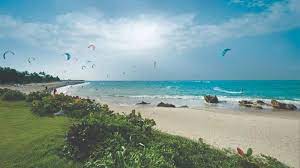 destinations for Argentines and now is the ideal time to plan a visit to this beautiful Caribbean island. From new and luxurious hotels in Cap Cana and Muches (the most recent destination that is in full growth) to the creation of a theme park that will be the talk of the town.
In this country, Argentine travelers do not need to present a visa or tourist card to enter. Tourists are granted a legal stay of up to 30 days, subject to an extension that must be requested at the local Immigration Office, with digital nomads in mind. Currently 12 airlines provide flight services to the island from our country. Only Aerolineas Argentinas has direct flights. The most used route is Argentina-Panama-Dominican Republic. By 2023, agreements are expected to be made with different airlines to offer more direct flights between both nations.
Known for its 1,600 km of coastline, wonderful accommodations and a wide range of entertainment and recreational activities, the island is endowed with a variety of tourist attractions distributed throughout the national territory. The island offers a variety of tourist attractions distributed throughout the national territory, both for playing challenging games of golf thanks to the 27 golf courses created by the best designers in the world, and for enjoying adventure tourism, one of the segments with the greatest variety of activities, from water sports to activities such as trekking or rappel. The country has at least 23 beaches that lend themselves to surfing, kitesurfing and windsurfing. It is also rich in coral reefs, underwater caves, galleon wrecks, shipwrecks and a multicolored world of marine life, special for both diving and snorkeling. The diversity of climatological and topographical conditions provides countless opportunities for trekking, hiking, bird watching, mountain biking, safaris and horseback riding, which can be practiced in some of the 29 National Parks in the country.
It also boasts a rich culture marked by centuries of history from the time of colonization and the continuous cultural exchanges that have taken place since then. The Dominican territory is also considered an essential destination to visit when it comes to nightlife.
What's new in 2023
The opening of the first St. Regis Cap Cana & Residences hotel will be a resort with 200 luxurious rooms and suites with spectacular ocean views and 67 residences, in addition to the signature St. Regis butler service and a world-class golf course designed by Jack Nicklaus. The resort is planned to be developed in one of Cap Cana's most breathtaking natural settings and will be complemented by the iconic style and bespoke service of the Marriott portfolio brand while the Residences will feature exclusive owner services.
In early 2023, the Caribbean's first world-class theme park, Katmandu, will open with a capacity of 4,000,000 visitors per day. It will bring the story of the Hidden Kingdoms to life through innovative family-friendly attractions and immersive digital entertainment using state-of-the-art technology. In addition, it will feature two miniature golf courses where participants will have to go through tunnels, cross ice crows and waterfalls, there will be the option of a course о play all 36 holes.
Similarly, the Falcon's resort of the Melia chain will be inaugurated with more than 600 all-inclusive rooms that incorporate exclusive benefits of the Kathmandu theme park, guests in standard rooms will have a free Beyond 1-use pass to enjoy the park, guests in superior rooms will receive a Beyond Multi-Day pass. In addition, everyone will have access to a private shuttle service to and from the park.
Miches, one of the tourist centers in the eastern part of the Dominican Republic, has six approved tourism projects with more than 3,100 hotel rooms and more than 1,400 residential units, focused on providing a luxury experience in contact with and preservation of the environment. Since last September, two exclusive accommodations for adults of the Dreams Secrets chain have been added to these projects: the Temptation Miches Resort, exclusively for people over 21 years of age with 380 rooms, and the Temptation Grand Miches Resort, exclusively for couples with 114 rooms and suites, with clothing-optional areas, designed to stimulate all the senses. The second has a Jacuzzi Lounge and an intimate playroom where couples can experience new things. The other is aimed at couples and groups of free and partying friends who will have the opportunity to experience optional topless areas. They operate on an all-inclusive basis, with world-class food and beverages, restaurants, bars, swimming pools and a fitness center.
This year will also see the inauguration of the Viva Wyndham resort in Miches with 750 rooms; this will be the seventh resort of this chain in the country. The first stage of the project will have three buildings with rooms, an area of 853 m2 dedicated to swimming pool, outdoor plazas, commercial building, discotheque, gymnasium, amphitheater with capacity for 1,100 people, as well as an event hall, a la carte and buffet restaurants, three bars and other amenities. Viva Resorts is a pioneer in the adoption of sustainable practices such as the Blue Flag certification, the international Crystal, pro-environmental actions, including solar power generation systems with photovoltaic panels.
Tropicalia is a unique tourist destination, composed of residences and hotels facing the sea. It is located in a setting of extraordinary natural beauty on the southern coast of Samana Bay. Its architecture and high-end leisure offerings attract travelers from all over the world to a relaxed, simple, yet elegant environment. The use of natural materials is in harmony with the surroundings, creating an authentic connection. Rigorous compliance with the highest design and development standards ensures sustainable, quality construction. The buildings blend discreetly into a lush tropical landscape, taking advantage of the extraordinary climate in environments that flow between indoor and outdoor spaces. Here you can enjoy activities such as mountain biking, whale watching, hiking and golfing. One of the most interesting getaways here is to spend a night under the stars in a glamping camp.
In 2023, the Punta Bergantín project will begin, which will be the new tourist destination and home to film and creative industries for tourism and urban development and will be supported by the construction of the Amber Highway that will connect Santiago with Puerto Plata and the rest of the country. This is a project aimed at boosting tourism on the North Coast of the country through projects focused on innovation and sustainability. There are six projects divided into: tourism and hotel, golf course, urban center, innovation center, film studios and real estate. Five high-density hotel lots with more than 100,000 m2 and more than 600 rooms each, two low-density hotel lots with 120,000 m2 and more than 100 rooms each, for a total of 6,700 rooms, and a golf course with an area of approximately one million square meters, are expected to be built.
The highlights
Playa Rincón: Rated as one of the 10 most beautiful beaches in the world, it is only a 15-minute drive from Las Galeras. One side has calm waters for snorkeling and sunbathing, while the north side has rolling waves for bodysurfing fun. It has turquoise waters, white sand and a perfect tropical landscape. You can enjoy freshly caught fish from the beach in beachfront restaurants or in local huts with open kitchens, one of the few virgin beaches in the country.
Esmeralda beach: secluded from the city and considered a hidden tropical treasure. It has calm and crystalline waters surrounded by a great variety of coconut trees. Located in the municipality of Miches, 3 hours from the city of Santo Domingo and 1 hour and 30 minutes from Punta Cana.
Cotubanamá Park: it is one of the most full of caves and adventures of the country, as well as one of the most visited. It has 500 species of flora and 300 types of birds. It includes stretches of beaches in the Catalina and Saona islands. Trails of varying difficulty, lots of caves and springs make it a perfect place for hiking. The diversity of species attracts the attention of birdwatchers. On the coast there are numerous diving and snorkeling sites, full of coral reefs and underwater walls. The beaches of this park are the most important turtle nesting site in the country.
Source: Weekend.perfil.com
Learn more: NEWS