The President of the Dominican Republic, Luis Abinader, announced that his administration will present a national artificial intelligence strategy by August. He pledged to increase investment in development and innovation to 1%.
President Luis Abinader pointed out the following in the past forum "Dominicana Innova 2023":
"We have committed, between now and 2030, to progressively increase investment in research, development and innovation, up to 1% of the Gross Domestic Product, because we know that innovating costs, but it is the only way."
Luis Abinader said the assistance will also come from the Dominican Republic's innovation cabinet.
Today we inaugurate the second edition of Dominicana Innova. Space dedicated to creativity and Dominican talent through digital technologies. #ThisIsChange https://t.co/rQdqhRxlm3
– Luis Abinader (@luisabinader) April 17, 2023
He even advanced that some technical tests would be carried out in May and August, when the national strategy is launched. The Development Bank of Latin America would also be involved.
On the other hand, businessmen urged the Dominican Republic to accelerate the development of its national artificial intelligence strategy. Doing so would allow the country to take "full advantage of AI".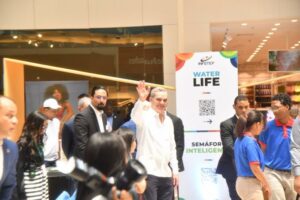 Entrepreneurs urge data management to boost artificial intelligence
The Director of Digital Strategy for Latin America at Microsoft, Pedro Uribe, was one of the voices in calling for this:
"On a scale of 1 to 10, the Dominican Republic is at a level 2.1 in the development of AI strategy. We understand that the country has great potential to develop that area, but first it must specify which sectors it will study to apply to socioeconomic needs, retrain the workforce, create education and the necessary skills to bring out the scientists, data and digital structure engineers who will work with those advances."
Businessmen gathered at the American Chamber of Commerce of the Dominican Republic (AMCHAMDR) supported Microsoft.
For Microsoft, the Dominican Republic should focus on developing algorithm-based information and fostering analytics.
For AMCHAMDR, AI advances are on par with the development of humanity, such as reducing energy generation costs by 10%. The potential of AI in the region is growing.
BeIncrypto reported days ago that when the Organization of Ibero-American States (OEI) agreed with ProFuturo experts that AI will have a profound impact on education in the region.
Source: Es.beincrypto.com
Learn More: TECHNOLOGY