SEPTEMBER 2016
By the Magazine Tour MAG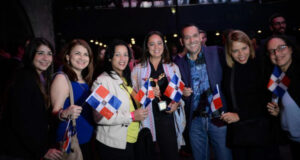 Dominican Republic won the Best Destination award bestowed by the Magazine Tour MAG, as part of the activities at the International French Travel Market (IFTM) Top Resa, being held since Tuesday and until Friday.
Participants compete in 15 categories, and winners are chosen by travel agents through two rounds of voting, taking into account the preference of vacationing tourists.
In its fourth edition, more than 12,000 travel agents chose the Dominican Republic as Best long-haul destination, confirming the European tourists' preference for the Dominican Republic, especially the French.
In a statement the Dominican Tourism Office said its director in France, Mercedes Castillo received the award in the French capital.
Deputy Tourism minister Fausto Fernandez, who heads the Dominican delegation at Top-Resa, called the prize extraordinary, and in his view recognizes Dominican Republic's great acceptance as a destination for Europeans and the work done by the Tourism Office. We must continue to strengthen efforts to benefit the destination and the country's future by continuing its sustainable tourism.