The Dominican government will issue next May a resolution to promote sustainable tourism and that contemplates the reduction of the use of plastics in hotels, announced Thursday the Minister of Tourism, David Collado.
According to the EFE news agency, on the first day of the Dominican Annual Tourism Exchange (DATE), the main tourism fair of the Dominican Republic and also of the insular Caribbean, which is being held until Friday in Punta Cana, Collado reiterated the Dominican Republic's commitment to environmental protection: "We are determined to be an example of sustainable and environmentally friendly tourism".

"We want to make the Dominican Republic not only a leader in the region (in the tourism sector), but also a more environmentally friendly destination, with sustainable tourism" in view of the clear signs that the planet is giving", said the minister, adds the EFE cable.
He also referred to the importance being given to sargassum and, in this regard, highlighted that this week the country was the first to hold a conference of national and international experts, authorities, the private sector and academia to analyze the problem of these algae in the Caribbean and possible solutions.
Specifically, during his speech at the seminar, Dominican President Luis Abinader announced the donation of one million dollars for research on the integrated management of sargassum, a problem to which the Ministry of Tourism has been seeking a solution for more than a year.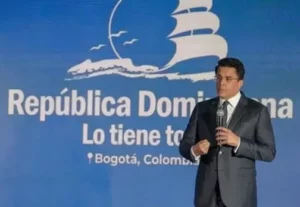 For his part, Andrés Marranzini, executive vice-president of Asonahores (Association of Hotels and Tourism of the Dominican Republic), organizer of the fair, referred to the reuse and optimization of energy in the lodgings already underway and the recovery of the frequency of washing sheets and towels after an increase due to the sanitary situation during the covid-19 pandemic.
The agency explains that all the measures are part of the constant development of tourism in the Dominican Republic, a sector that contributes 25% of the Gross Domestic Product (GDP) and that breaks records month after month in terms of tourist arrivals.
After 2022 closed with the arrival of 8.5 million visitors (7.1 million by air and nearly 1.4 million on board cruise ships), the Dominican Republic reached 2.8 million tourists in the first quarter of this year and expects to end 2023 with 10 million.
With this goal in mind, work continues to be carried out on beach refurbishment, infrastructure improvement and also on the safety of visitors to the Dominican Republic.
Source: Noticiashoraxhora.com
Learn More: TOURISM