MAY 2013
As an international film destination
Dominican Republic's flag waves high at its Cannes Film Festival pavilion, where it promotes the country as an international film destination and where contacts and ties with world-renown producers have been forged.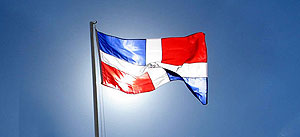 Presidency Film commissioner Ellis Perez said the impact on many producers unaware of the country's tax breaks was good, as well as the locations and conditions available for productions. We're already a reality, the country expects good results in terms of film investment and has outmatched many other platforms of sister nations.
Speaking in the Dominican stand at the Festival's convention center, the official thanked Culture minister Jose Antonio Rodriguez for supporting the activities in Cannes.
Perez added that more than 30 filmmakers and several European and U.S. journalists specialized in film have confirmed to attend a press conference in the Dominican stand.
At the pavilion is represented the Ministry of Tourism, through the vice ourism Minister Marcia Isa , who said that the goal is to strengthen the bond between movies and tourism industries, which are very connected.
Isa said that the intention of the module in Cannes is finally support the initiative of President Danilo Medina of increasing tourist arrivals to the country in 10 million over five years.