The Ministry of the Environment and Natural Resources granted the environmental license to the Cabo Rojo-Pedernales Tourism Development Project.
Sigmund Freund, executive director of the General Directorate of Public-Private Partnerships (DGAPP), said that this environmental license covers all phases of the project and that this demonstrates that the studies carried out as a trust, environmental impact or tourist load show that a tourist destination can be built in accordance with the best international environmental standards.
"This is an endorsement and an endorsement to the Fideicomiso Pro-Pedernales, that the project that has been developing for several months has the conditions to obtain a license of this nature", assured Freund.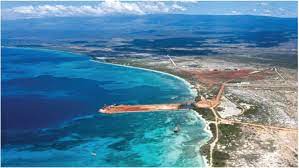 He also alleged that the conversations, public hearings and interactions that the DGAPP has had with the environmental groups have resulted in enriching the proposal in such a way that they were able to integrate all the environmental components necessary to obtain the project's license.
He added that the recommendations made by the Environment in the license, had already been foreseen by the Dgapp and included in the environmental impact study, which shows that the organization has gone ahead with the specific characteristics required by a project of that magnitude.
"It is the environmental license of the second largest perito in the history of the Dominican Republic, after Cap Cana, in terms of land extension," said Sigmug Freund.
Finally, he described it as a great achievement for the government and for the trust, and at the same time, he recognized the Ministry of the Environment for having the courage to grant the permit.
On June 30, 2022, the results of the tourism carrying capacity studies carried out in Cabo Rojo and Bahía de las Águilas were received by the Vice President of the Republic, Raquel Peña, who at the time was acting Minister of the Environment, at the hands of Sigmund Freund.
The studies were carried out by the consulting firm Russa García & Asociados in charge of the MSC and delivered at a meeting scheduled at the headquarters of the Ministry of the Environment and Natural Resources.
For the Cabo Rojo Project, a projected multi-year investment of three billion dollars (US$ 3,000 MM) is estimated for the consolidation of a 4,700-room hotel complex, a tourist port, an international airport and the public infrastructure to support these facilities.
Source: Mitur.gob.do
Learn more: NEWS