Foreign Ministers of Paraguay and Dominican Republic today signed two agreements on the margins of the UN Assembly
The Minister of Foreign Affairs, Ambassador Julio César Arriola Ramírez, met today with his counterpart from the Dominican Republic, Ambassador Roberto Álvarez, on the sidelines of the Seventy-seventh Session of the United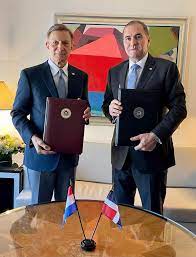 Nations General Assembly, which begins today in New York.
The ministers signed two bilateral agreements, the first, a treaty on the transfer of sentenced persons, which seeks to strengthen cooperation links in judicial matters.
This agreement offers Paraguayans and Dominicans the possibility of serving their sentences in their respective countries in order to reintegrate into society.
The second agreement signed deals with
The second agreement signed deals with the exercise of remunerated activities for dependents of diplomatic, advisory, technical and administrative personnel and international organizations, which is based on the provisions of the Vienna Convention on Diplomatic and Consular Relations.
Learn more: NEWS