AUGUST 2017
Pedernales an exciting tourist destination with a modern airport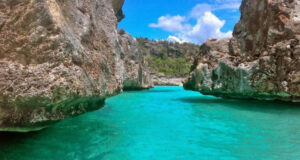 The Presidency announced it wants 3,000 hotel rooms and a modern international airport in Pedernales to spur tourism development in the south westernmost province. Tourism Minister Francisco Javier García said President Danilo Medina in his most recent visit to the area of the Bahía de las Aguilas beach accompanied by Sunwing and TUI vacation group executives, highlighted the tourism potential of the region and said that development for the tourism sector would begin immediately.
Minister of Tourism García said: We were in Pedernales to discuss the land use and investment plans and to specific propose actions to facilitate the construction of 3,000 hotel rooms of the highest standards that are being planned for Pedernales. This is all in the effort to make Pedernales an exciting tourist destination with a modern airport.
Garcia said the investors' proposals must contribute to the socioeconomic welfare of the southwest, and meet the criteria of environmental conservation.
He said it is the time to get going in Pedernales, pushing this to be the newest tourism pole in the country to benefit the region's people. Garcia said the effort is consistent with backing sustainable tourism initiatives, economic development and jobs for the area. President Danilo Medina invited the Sunwing executives to return in July 2017 with a final proposal to jumpstart tourism and ecological development of Bahía de las Aguilas.
President Medina was accompanied by Administrative Minister of the Presidency José Ramón Peralta and investors Stephen Hunter, Sunwing's CEO and president; Alvaro Peña, president of Codelpa construction company, and Jordi Pelfort, managing director, Blue Diamond Resorts (Sunwing Travel Groups Hotel Division).
Blue Diamond Resorts operates resort brands like Royalton Luxury Resorts, Memories, CHIC All Exclusive. Codelpa has participated in the construction of more than 15,000 hotel rooms nationwide, including hotels and resorts: Barceló, Grupo Martinón, Bahía Príncipe, Royalton Luxury Resorts, Best Western, Memories Beach Resorts, Dreams Resorts, Grupo Puntacana, Blue Diamonds Hotels and Resorts, Fishing Lodge, Secret Resorts, NH Hotels, NOW Resorts, Hodelpa Hotels, Cap Cana, Memories Beach Resorts, H10 Hotels, Zoetry Wellness and Princess Hotels and Resorts.