SEPTEMBER 2013
Environment minister calls it exceptional
Environment minister Bautista Rojas on Sunday revealed 1,317 births of various sea turtle species from May to September, on beaches of the National District, Samana, Puerto Plata and La Altagracia.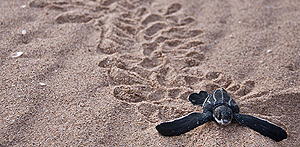 He called the season exceptional for the birth of thousands of hawksbills, greens and leatherbacks, which in his view contributes to the conservation of marine species in serious danger of extinction around the world and the protection of local biodiversity.
He said the record turtle births stem from the nest-vigilance program conducted by Ministry Coast and Marine Dept. technicians, leading to 895 leatherback births, of which 338 were at Lavacama beach, La Altagracia Province; 438 in Samana and 119 in Puerto Plata.
Rojas added that 264 green turtles hatched in Samana province, while 158 hawksbills ? ?were released to the sea in the National District. This record number of registered sea turtle species on Dominican Republic's beaches shows the importance of maintaining a nest surveillance policy as a key mechanism to ensure their perpetuity.